Best VPN for Streaming
VPN for streaming movies and videos online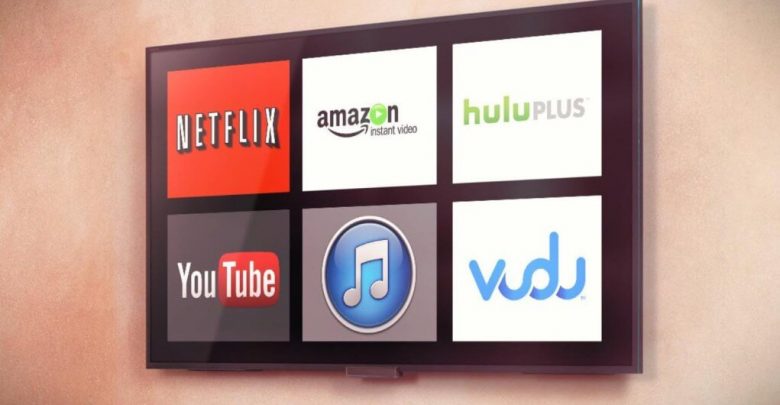 Summary – With the increasing popularity of streaming services, people often find themselves in need of a VPN.
Only by using a VPN for streaming, you can unblock certain streaming sites and services and unlock bigger video libraries than you can currently access.
If you are using a streaming service such as Netflix, Hulu, iPlayer or Amazon Prime, and most chances you are, continue reading..
Get Cyberghost – #1 Best VPN for Streaming. 
There is currently a very clear trend where TV is taking a plunge while online streaming services are getting more and more popular.
In fact, in 6 out of 10 households in America, there will be at least one active account for a streaming service.
In addition, streaming is becoming more popular since some content is simply not being broadcast on local television such as international sporting events and shows.
The problem is, that some of the most desired streaming services have strict geo-restrictions, preventing people access or limiting the number of videos available.
People are starting to learn that they need a VPN for streaming.
What a VPN does in short, is to re-route your connection through a different IP address (for the country of your choice), so it seems as if you are currently browsing from a different country.
This is useful for streaming especially due to the geo-restrictions.
Netflix for example, have a limited video catalog to countries outside the US. If you want to watch BBC iPlayer, that's available only if you are in the UK.
Having a VPN for streaming is also useful when you are going abroad, but still, want to catch your favorite show or a sporting event that is broadcast only on your country.
Whether you are on a business trip, or just want to kick back on your vacation and catch up with your show on Netflix – You would need a VPN.
Otherwise, Netflix will simply either block you or limit what you can watch.
Popular streaming services with Geo-restrictions:
If you are using one of the services below, you would also want or need a VPN.
In some cases using a VPN would simply expand your video library or give you access when traveling abroad.
But in other cases, there are services such as Youtube that can be completely blocked in some countries and can be accessed only with a VPN.
Netflix
Hulu
iPlayer
Amazon Prime
HBO GO and HBO NOW
Xfinity
Youtube
DAZN
ESPN
These are just a few examples, but the list goes on.
What to look for in a VPN? 
Since one of the main problems with streaming is getting access to content from around the world, one of the most important features you would want to look for is the number of geo-locations and servers.
ExpressVPN, for example, has over 1500 servers in 95 different countries.
This means that no matter where you are from, you can stream from almost any country in the world and never miss a game or an episode.
Second, I would look for Speed. Streaming could be a big task for your computer's or device's CPU.
Especially, if you are looking to stream videos in high qualities such as HD, UHD, and 4K.
You should be looking for a VPN that can hold high Download and Upload speeds – though while streaming, you are mainly interested in Download speed.
Cyberghost has been one of the fastest VPNs I got to test with an average of 88 Mbps (that's not far below what most ISPs provide as a standard connection) from different countries and servers.
Finally, and this is specifically for those who use Netflix or iPlayer.
You want to find a VPN that unblocks Netflix. Netflix and some other streaming services are investing a lot of money and resources to detect when users are logging in using a VPN.
Most VPNs just don't have the fortitude to stand against Netflix, but some of them do.
To summarize, you should be looking for a VPN that has:
Many Geo-Locations and servers.
High speed and performance
Able to override Netflix – If they can beat Netflix, most chances they can beat all the other streaming services as well.
Best VPN for Streaming
The very best VPNs for streaming are those who have all three must-haves, in addition to other important VPN features such as privacy, customer support, pricing and more.
#1 CyberGhost – Superfast, unblocks Netflix, Hulu, BBC iPlayer
The number one ranked VPN for streaming is without a doubt Cyberghost.
Cyberghost have made some recent revamps and improvements to their VPN, which really makes them stand out.
Some of these improvements include enlarging their network of servers and geo-locations.
Using Cyberghost as a streaming VPN is a good choice as they currently offer 1191 servers in 60 countries, and growing.
Their relatively large amount of servers combined with their technology makes for the fastest VPN I've tested, period.
Their download speed on average across different geo-locations was 88 Mbps.
I never encountered any glitches long load times or slow buffering. Moreover, picture quality was always great in high-quality videos.
Cyberghost is also currently a confirmed VPN to unblock Netflix.
They have been struggling with this, and there used to be times where they were unable to override Netflix's detection bots.
From my most recent tests, they succeeded – but I check from time to time, and will update if this changes.
Never had any issues unblocking any other streaming service with Cyberghost.
Get Cyberghost – Only $2.75 / mo 30 Day Money Back Guarantee
#2 ExpressVPN – Widespread, fast and unblocks Netflix
The number two ranked VPN for streaming is without a doubt ExpressVPN.
As I mentioned earlier, ExpressVPN's network spreads over 95 countries with over 1500 different servers.
This means you can stream from almost any country in the world and it also means that your speed and performance would probably be good in those countries.
This is thanks to the big amount of servers you can choose to connect from.
Indeed, ExpressVPN is one of the fastest VPNs I've tested (I've tested nearly 100 different VPNs, btw). Its average download speed from various countries was around 85 Mbps.
When I connect my Smart TV through ExpressVPN, picture quality never compromised. I stream in the highest quality possible and the video runs smoothly.
ExpressVPN is also one of few remaining VPNs that can still unblock Netflix.
They openly state that it is their mission to keep it that way forever.
This is a must if you want to watch Netflix from outside the US, and a great bonus if you are from the US and just to catch up on Netflix while abroad.
Get ExpressVPN – Only $6.67 / mo with 3 Extra Months Free
#3 PrivateVPN – Unblocks Netflix
PrivateVPN may not be the fastest VPN out there or the most robust.
But they constantly work with Netflix and that gets them into the list. PrivateVPN supports 80 servers in 52 countries.
This is low, but surprisingly the impact on their speed is not so big.
I've tested their average speed from various countries, and their download speed was 73 Mbps.
It's not as high as ExpressVPN or CyberGhost (the 2 fastest VPN's in the world), but it's not that far behind.
Overall the streaming experience with PrivateVPN was good.
Though loading times were at times a bit slow, I was able to watch a movie from start to end with high quality.
Most importantly, PrivateVPN support Netflix.
Their technology was always about strong encryption to ensure high levels of protection, privacy, and security.
I assume this helps them get around the Netflix bots successfully.
Get PrivateVPN – $3.38 / mo with 1 month extra for free
Bottom Line
Whether you want to stream movies, videos or sports events most chances you will sooner or later need a VPN.
Using a VPN you would be able to go around geo-restrictions imposed by most streaming services, plus you would be able to watch whatever you want from wherever you are.
Blocked content is a thing of the past when you stream with a VPN.