The Best Chat Alternatives in 2019
Omegle alternative sites and how to get unbanned from them

Summary – If you have found yourself banned from a chat site like Omegle, there are several chat alternatives around where you can chat it up with whomever you want.
These chat sites, however, have policies in place which can lead to you being banned from them as well.
In this article, we'll review the top chat alternatives as well as identify what you can do if you are banned by any of them.
What if you get banned from chat alternative?
There are plenty of decent Omegle alternatives (Chat Alternative, Emerald Chat, TinyChart, Chatroullete, to name a few); however, every one of them have policies in place that can get you banned if you violate them or, in some cases, even if you don't, but you happen to get reported by users who don't like you for one reason or another.
In most cases, if you get banned, you can bypass the ban by changing your IP address.
Some people suggest using proxy servers which allow you to bypass bans quickly and inexpensively; however, there are a variety of ways that websites can detect the use of proxy servers and, frequently, proxy servers either don't work to get you unbanned or they only work for a short time.
The better solution is to use a VPN which will allow you to change your IP address in a manner which can prevent detection.
In addition to giving you a different IP address, VPNs can also provide a level of security which you do not have from either a direct connection or when you connect through a proxy server.
This additional layer of security can protect you from hacking and malware while also preventing anyone from detecting your actual IP address and keeping you genuinely anonymous.
Below is a list of VPNs which will give you a new IP address that will allow you to bypass an Omegle ban or a ban from any chat alternative.
Top VPNs to Help You Get Unbanned from Chats:
Cyberghost continuously switches IP addresses.
One way websites detect proxy servers is by monitoring known lists of server IP address; however, by switching IPs, Cyberghost makes it more difficult for their IPs to be identified
as proxy IPs and thus automatically blocked.
In addition to this IP protection, Cyberghost has 4 available security protocols and offers AES-256 bit encryption.
This provides additional protection from those seeking to do you or your computer harm. Cyberghost has servers in 60 countries with a total of more than 3000 servers giving you plenty of options to shift the geographic location of your IP when you change your IP address.
They also have servers optimized for torrenting and streaming.
So, if you are planning on video chatting, especially if you are doing group video chatting, you can select a server optimized for streaming to give you the best experience.
Get CyberGhost, 45-day money back guarantee
Like CyberGhost, ExpressVPN uses the standard AES-256 bit encryption.
It has 4 security protocols to choose from as well. Each protocol has its benefits and drawbacks, usually a tension between security and speed (example: PPTP tends to be a very fast protocol, but it is also one of the most vulnerable).
ExpressVPN also has a helpful feature called a killswitch which terminates all requests from your browser to your computer if your VPN gets disconnected, thus preventing your IP from being discovered if your VPN goes down.
Finally, ExpressVPN boasts over 2,000 VPN servers in 148 VPN server locations in 94 countries which gives you plenty of options both to switch servers when needed and to choose your geographic location.
Get ExpressVPN – 30-day money back guarantee
Where Cyberghost touches on optimized servers for specific functions (streaming and torrenting), Ivacy has gone all out, providing five different optimized server settings: Secure Download, Streaming, Smart Connect, Dedicated IP, and Unblocking.
That's right, Ivacy has servers specifically optimized for getting you unblocked from sites like Omegle, Chatroulette, and other chat alternatives.
Within these optimizations, there are additional options to further optimize your VPN server for the particular function for which you are using it.
Like ExpressVPN, Ivacy also has a kill switch to protect your IP from being detected if your VPN goes down.
Ivacy has 450+ servers in 100+ locations in 50 different countries which are the least server options of our list, but still enough for what most people would need.
Get Ivacy – 30-day money back guarantee
NordVPN has a remarkable feature called Double VPN.
If you've ever seen the movie, Sneakers, at one point the protagonist calls the FBI and protects himself by running the call through several hubs around the world and bounces the call off a few satellites to keep the FBI from tracing the call.
Double VPN is similar, though not quite to that extent.
With Double VPN, your internet connection is routed through a VPN and then routed through yet another VPN on a different server in a different location before connecting to the website you are visiting.
This makes it much more difficult for anyone to trace your web activity back to you, though it is a little slower due to the data having to go through both VPNs before getting back to you.
As an additional security feature, NordVPN also doesn't keep any logs for any of their over 5000 services in 62 countries.
Get NordVPN – 30-day money back guarantee
The Top Omegle Alternatives
If you got banned from Omegle or just looking to find other sites like Omegle that offer a great platform to talk to strangers – you're in the right place.
After scanning dozens of anonymous chat sites, we've come up with the following list where you can find the best Omegle alternatives on the internet.
#1 Chatroulette
Chatroulette has been around since 2010 and is one of the most popular anonymous chat sites on the web.
As the name implies, after logging into Chatroulette, it places you in a chat with random people at which point you can either carry on a conversation or move on to the next person.
Unlike Omegle, Chatroulette has done away with their text chat option and is now video only.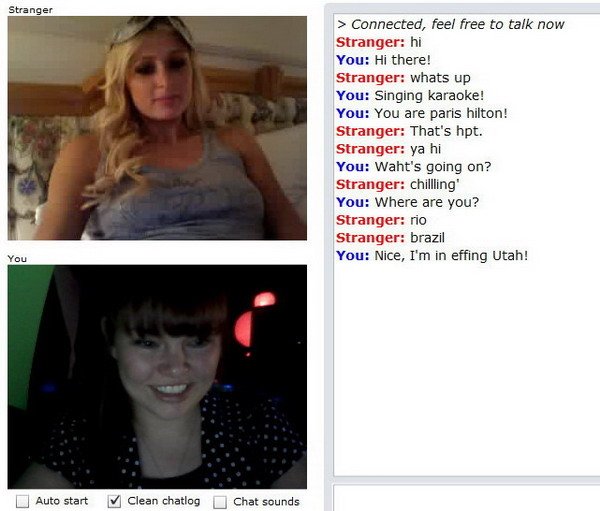 You can, of course, direct your camera elsewhere in the room, but you have to speak to have a conversation which can make some people uncomfortable.
Chatroulette has its rules as well, though, and it is possible to get banned from this chat alternative just like Omegle.
Some of the actions that can get you banned on Chatroulette are:
Pornographic images/behavior
Offensive language
Trolling
Chatroulette has image recognition software and human monitors that watch the video feeds and flag inappropriate behavior for banning.
In addition, the site has a user reporting feature where being reported by three people within five minutes results in a temporary ban.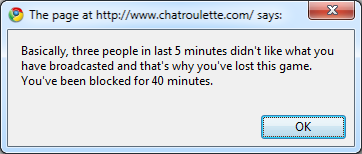 The typical means of banning employed by Chatroulette is based on your IP address which means the best way to get unbanned from Chatroulette is by using a VPN to change your IP, thus allowing you to use the site again.
#2 Chat-Avenue
Started in 1999, Chat-Avenue is one of the oldest chat room sites on the Internet.
You can choose to register or not register and remain completely anonymous.
Chat-Avenue combines the randomness of sights like Omegle and Chatroulette while also providing categories to choose from to better ensure meeting people with similar interests.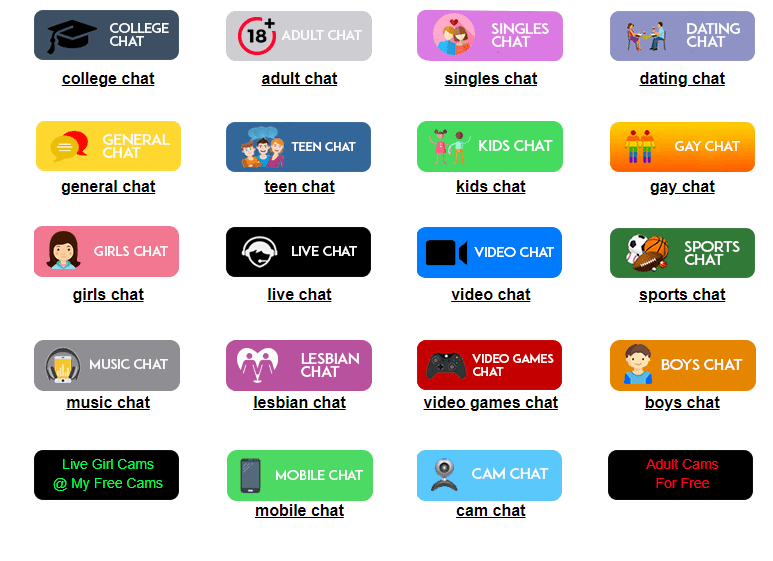 You can choose to chat either by video or text, and they also allow file sharing so long as the shared files are not copyright protected.
In addition to having chat room categories specific to minors, Chat-Avenue also works to maintain a safe environment through volunteer moderators who monitor chat activity and can take action when necessary either banning users or even reporting them to the authorities if illegal behavior is seen.
Similar to other chat room websites, there are certain rules which, when broken, can lead to either a temporary or permanent ban from Chat-Avenue.
These ban rules include:
age limits
scamming
advertising
spamming
use of offensive or bigoted language
In addition to the moderators, users also can report inappropriate behavior which can lead to you being banned.
According to Chat-Avenue's FAQ, the only information they record (unless you register and fill out personal information in your profile) is your IP address which means, if you do get banned, the solution is simply to change your IP address, which is best done by using a VPN.
#3 TinyChat
Tinychat is an online chat site which gives you the option of text, audio, or video chat.
There are literally thousands of chat rooms available as well as the ability to create a new chat room around any topic you wish.

While TinyChat does offer a random, one-on-one chat feature, they also give you the ability to have group chats, including streaming your video chat with multiple users at once.
Within the group rooms, you can also have private chats with other members of the group chat.
TinyChat utilizes hundreds of volunteer monitors to ensure a safe chatting environment as well as employing age restrictions and giving users the ability to report people.
The list of activities that can get you banned from TinyChat is pretty extensive and includes:
any kind of illegal activity
attempts to exploit minors
discussion of illegal activities
nudity/pornography
use of copyrighted materials
recording any content from the chats
bullying
hate speech
…I could go on.
In addition to the actual rule violations that can get you banned, every room is run by someone (usually the person who created the room), and they can set up whatever rules they want and ban anyone from that room whenever they wish, though you can always go to another chat room.
As with most of the chat rooms, bans are based on IP addresses and can be circumvented by changing your IP or using a VPN.
Bottom Line
There are several great chat alternatives out there, but it is also pretty easy to get banned.
That doesn't have to end your ability to chat.
The good news is that due to the anonymous nature of all the chat rooms, the
only way to ban users is by blocking their IP address and that can be easily
sidestepped by using a VPN.
If you find yourself banned on Omegle, maybe try one of the other Omegle alternatives and
see what you think.
Regardless, we highly recommend using a VPN whether you are banned or not, as it adds layers of both security and privacy in addition to helping you get unbanned.