How to Get Unbanned from Omegle in 3 Easy Steps
Unblock Omegle with a VPN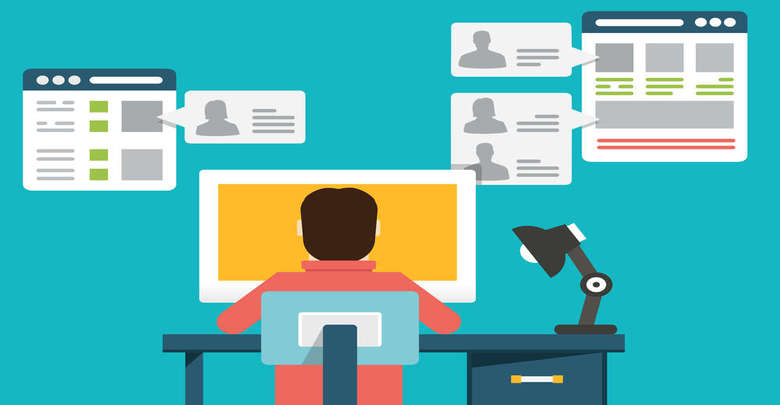 Summary – Omegle has a very strict conduct policy and an easy trigger-finger for banning those who they've decided violated it.
A ban could last anywhere from 1 week to 4 months.
Your best and easiest solution for getting back in the game is to get a VPN to get unbanned from Omegle.
How to Get Omegle Unblocked in 3 steps (Step by Step Tutorial)
Choose a VPN that suits your needs  – See my list for the best VPN's to get unbanned from Omegle.
I recommend finding a VPN that will serve more purposes, so on my suggestions, you will find the leading VPN's in the industry.
Connect – Once installed, activate your VPN client and connect to a nearby server. You should use the server recommendation given by your VPN app. Usually, they are the nearest servers to your Geo-location, so maximum speed is ensured.
Chat – That's it! Your IP address is now hidden and your connection is secure. Go to Omegle or Ome.TV and continue chatting as if you were never banned in the first place.
For consistent and undisturbed chats, the most recommended Omegle VPN is ExpressVPN
Omegle Ban – Background
So, you've probably just found out that you got banned from Omegle or Ome.TV.
To give a little background on why this might have happened you need to understand Omegle's concept and mechanism.
Omegle, an anonymous online chatting platform, is based on the concept of chatting with strangers, as their slogan suggests.
This is a great concept which attracts many people that can feel free saying whatever is on their minds with the freedom of anonymity.
Of course, as we all know, the internet is also full of people who use this freedom to cause harm, insult, harass and the list goes on.
Omegle has also been a target for hackers, who find easy prey in people who think that since their name doesn't appear on the chat – it makes them invulnerable.
The opposite is the truth actually. They're just as vulnerable to hacking, identity theft or other scams, as anyone else and even more so, since they feel anonymous.
This makes people susceptible to being hacked, or volunteer sensitive information online. You'd be surprised how easily.
Omegle keeps a record of your IP address, chat logs, pictures sent and more.
Be very careful with the information you share thinking it is completely anonymously because you don't really know who's on the other side.
How long do Omegle bans last?
Omegle have a strict policy of what can and cannot be discussed or mentioned on chats.
They're also infamous for having a very easy trigger when it comes to banning users from its network.
A ban could last anywhere between a minimum of one week and up to 4 months, depending on the reason you got banned.
Under more severe circumstances, your IP address will be flagged and you will be banned for life.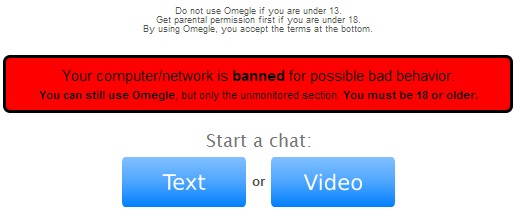 Why did you get banned from Omegle?
There are 3 main reasons for Omegle to ban its users:
You've disobeyed the rules – If you are serious about chatting on Omegle, you should spend some time to get yourself acquainted with their rules.Most importantly, avoid the use of offensive language or sexual harassment.Yes, Omegle at times (on the adult platform and on Ome.TV) can be and is being used as a sex-ting platform.This is perfectly fine, just as long as you keep it clean. These strict rules also apply to being offensive on the video/camera.
You've been snooping around – If Omegle detects that you have been going in and out of chats without actually chatting for too many times – they'll kick you out for a cooling period.Omegle is apparently quite anxious from users snooping around.This is common hacker behavior or worse, police.They simply don't like being monitored, and I don't blame them.If you get banned for snooping, your initial ban shouldn't be longer than a week.Second time ban for the same reason, you ban could last up to 4 months.
Someone reported you – Omegle doesn't only rely on its bots to detect foul language and shady behavior. They give the option to users to report each other if they feel offended by some other user.Omegle users are a very open and liberal community, and they don't tend to report other users for no reason.So they take it very seriously one someone reports you, and your ban could be anywhere from a few months to a lifetime.
Sometimes, you might get flagged and banned for no apparent reason at all.
Omegle takes the 'better safe than sorry' statement very seriously.
They are quite aware that their platform is being used by sexual predators and hackers, so they prefer to take no chances.
They'd rather ban an innocent user for a week then getting someone's identity stolen using their platform.
How to get unbanned from Omegle with a VPN
The easiest and most permanent way to get unbanned from Omegle is by using a VPN.
VPN is short for 'Virtual Private Network'. What it does is re-routing your connection to a secure and private connection.
Your IP address will change as a result, so will the servers you are connected through, and you will gain a few extra layers of security.
Most VPN's use AES-256 bit encryption, which makes it nearly impossible for anyone to hack to your computer.
Since Omegle takes record of your IP address, chat logs, etc.. it is probably a good idea to mask your IP and secure your connection regardless of being banned.
But since you did get the Omegle ban, by changing your IP address, Omegle will no longer recognize your computer and therefore cannot ban you.
There are also other chat services you can check out, but be warned that they too have a strict banning policy – Here are a few of my recommended Omegle alternatives.
Unblock Omegle with a Proxy
I suggest you save yourself some time and hassle to avoid using an Omegle proxy to get yourself unbanned.
Although Proxies, much like VPNs end up changing your IP address, it is not enough to unblock Omegle.
Omegle can identify proxy traffic, and simply block you out.
What is the Best VPN to unblock Omegle ban?
The best VPN's to get you unbanned from Omegle are those who have the best privacy and security protocols, and the largest amount of servers both local and international.
#1 ExpressVPN to unblock Omegle
ExpressVPN is one of the most advanced VPN's in the industry when it comes to privacy and security.
They also use a couple of safeguards to ensure your IP address cannot be leaked or traced back to you.
ExpressVPN uses the standard AES-256 bit encryption over 4 VPN protocols.
OpenVPN with TCP/UDP
SSTP
L2TP/IPSec
PPTP
The most secure option, though not the fastest, is the SSTP. This VPN protocol will route you through an SSL connection.
This is an important feature to stay protected against hackers and malware on Omegle.
In addition, ExpressVPN utilizes a Kill Switch. This is a fail-safe feature in case your VPN get disconnected for some reason.
It simply stops all requests from your browser to your computer, preventing your IP to be revealed.
This is an automatic process which usually lasts only a few seconds, but it keeps you and your identity safe.
ExpressVPN offers one of the largest pools of servers and Geo-location to choose from.
500 servers in 95 countries to be exact. They also offer a 'smart location' feature, which automatically detects the best server for you to connect to, and a Private IP you can connect through.
Get ExpressVPN – 30-day money-back guarantee. 
#2 Cyberghost to get unbanned from Omegle
Cyberghost is strong in privacy and security. Along with the AES-256 bit encryption over four security protocols, Cyberghost has a kill switch with malware protection which is always good.
They encompass over 2800 servers in 60 countries.
Cyberghost constant switching of IP's which makes it impossible for anyone to monitor your online activity, let alone trace it back to you.
Cyberghost offer the cheapest price in the market right now, which is also what makes it an attractive VPN to get unbanned from Omegle and Ome.TV.
Get Cyberghost – 30-day money back guarantee
#3 NordVPN to unblock Ome.TV / Omegle
The main features of NordVPN which make it a great VPN to get Omegle unblocked are its unique privacy protocols.
NordVPN most prominent feature is the Double VPN.
What it does is to re-route your connection twice, in a secure manner so it is impossible to re-trace your former IP addresses from your current ones.
You get rerouted once and then re-route again to different servers and Geo-locations each time.
Furthermore, NordVPN has a very strict no-logs policy and a DNS Leak Blocker. Both features guarantee maximum privacy online.
NordVPN have a large network of 1106 servers in 61 countries.
Get NordVPN – 30 day money back guarantee
Bottom Line
Getting yourself banned from Omegle is quite easy. Omegle has very strict rules and is very quick to ban users for even slightly suspecting a violation.
The best and easiest way to get unbanned from Omegle is by using a VPN.
a VPN will get your IP address hidden and changed and this way Omegle would not be able to recognize you or your computer.
This would make you unbanned from Omegle, and you could continue chatting immediately.
I recommend Cyberghost as the best VPN to get unbanned from Omegle quickly.