Best VPN for Comcast Xfinity
Comcast is slowing down your internet connection. Here's what you can do about it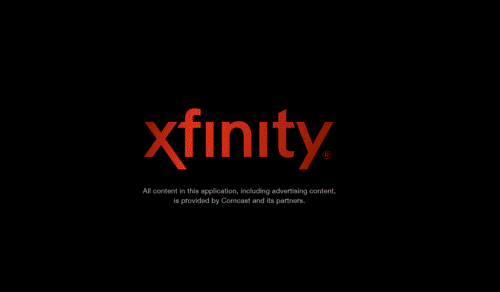 Summary – Comcast is the largest internet service provider (ISP) in the US.
In fact,  more than 40 percent of all households and businesses in the US use Comcast's services, making it the most dominant ISP in the US market.
Xfinity, a Comcast brand, offers large movie and series catalog from all major American productions.
However, when Comcast users go abroad, or anyone from outside the US for that matter, and want to watch Xfinity they're blocked.
Xfinity is a Geo-restricted service, for the US only. 
Despite its popularity, Comcast is also well known for limiting users' internet speeds either to increase profits or to damage its direct competition.
It is also considered a highly intrusive ISP, logging and later using all its users' private data.
The best way you can kill two birds with one stone is by using a VPN for Xfinity.
With a Comcast Xfinity VPN, you will be able to bypass speed throttling and protect your private browsing data.
For fast and private internet, I recommend using ExpressVPN for Xfinity.
Is Xfinity throttling your internet speed?
The short answer is YES.
Comcast Xfinity, while being the biggest ISP in the US is still like any other for-profit company, aimed at one thing and one thing alone – increasing profitability.
Xfinity has been doing so in several ways, and some of them should concern everyone using the Comcast Xfinity internet services.
Although it is not a big secret, still Xfinity would not like you to know how they manipulate your internet connection in order to make more money.
One of the ways they have been doing it is by 'Throttling' their users' internet speed on certain websites.
Throttling is a term which basically means slowing down your internet connection speed to either discourage you from visiting a certain website or saving bandwidth at your expense.
You might have purchased their 150 Mbps. internet package, but that doesn't matter if you go to a website they don't want you to.
in which case your internet speed could drop to as low as 10-15 Mbps.
Now, that the Net Neutrality laws have been repealed, throttling is perfectly legal and Comcast could decide to charge you extra for accessing certain sites or online services.
How much, and for which sites? that is entirely up to them to decide.
In order to bypass internet throttling, you need a VPN for Xfinity; I recommend ExpressVPN.
Xfinity throttling Torrents
Torrent sites have notably been the main target for Xfinity's throttling.
The process of peer-to-peer torrenting is very heavy on bandwidth and high activity volumes on Comcast's servers requires more RAM, more maintenance and more servers in general.
By throttling torrent sites, Xfinity manages to reduce torrenting simply by discouraging users to do it.
The download/upload speeds become so slow, it is nearly impossible to complete a file transaction.
The famous Torrent site TorrentFreak was the first to report that Comcast is throttling users on their site.
They blew up the story that, up to that point, was no more than an unproven rumor.
It is simply not profitable enough for Xfinity to maintain a wide enough bandwidth to allow P2P torrenting.
Xfinity throttling Netflix
Another reason Comcast has been throttling internet connections is to fight its direct competitors.
Since Xfinity was launched, Comcast has been struggling to successfully penetrate the on-demand videos market.
Xfinity's market share isn't small, but it is nothing compared to Netflix – the undeniable market leader.
One clever way to increase Xfinity's market share is simply to throttle the streaming speed on Netflix.
On download speeds of less than 70 Mbps., not to mention 15 Mbps., streaming becomes too slow to watch. 
Consumers can complain as much as they want, or they could pay extra to be able to watch Netflix, for which they are also paying a monthly fee.
In early 2014, Comcast and Netflix made an agreement to join forces, and offer bundled subscriptions to users where those additional fees are already incorporated on the unified billing structure.
You can clearly see on the chart below the effect on Comcast's Netflix download speed before and after the agreement.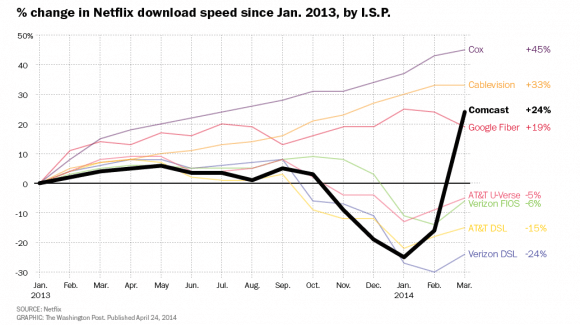 Comcast is spying on you
You really don't need to be shocked by this.
Comcast, like most other ISPs, is monitoring, logging and recording your every move on the internet.
In fact, there are claims, though unsubstantiated, that even what your input into online forms is being recorded.
That means that Comcast knows your name, email, address, gender, social security number, credit card number and more.
Combine that with your online shopping habits, browsing history and connectivity frequency, and you've got a very accurate user profile.
Comcast can legally sell this data to the highest bidder, with absolutely no restraints on who that might be.
In other words, your private information is nothing but private.
To secure your privacy online use Xfinity VPN. I recommend ExpressVPN.
How to access Xfinity outside the US?
Xfinity is a geo-restricted service, destined for US residents only.
Even if you are an American but plan to go abroad, your Xfinity account would be worthless outside the US.
By connecting through a VPN, you can 'fake' your geo-location.
With a VPN you can connect through a US server with added security layers.
That would make Xfinity believe you are accessing from within the US and the geo-restrictions would not apply.
Why do you need a VPN for Xfinity?
As discussed in detail, there are numerous reasons why you must use a VPN with Xfinity.
To summarize, you need an Xfinity VPN in order to:
Bypass speed throttling
Protect your online privacy
Access Xfinity from outside the US
VPN stands for 'Virtual Private Network', and this private network can give you internet freedom.
The way a VPN works is by rerouting your connection via an encrypted protocol and reconnecting you to a different server.
Your IP address is being masked, and your computer or device is assigned with a new IP address according to the country you have connected to.
In addition, premium VPNs also add security protocols to your connection making your private info and browsing data protected and untraceable. 
Your ISP can no longer know who you are, or where you are from, and your online presence becomes invisible.
When you are completely anonymous, Comcast doesn't know which sites you are entering, so it cannot throttle your connection speeds. 
And finally, by using a VPN you can bypass Xfinity geo-restrictions by connecting to a US server, even when physically you are in a different Country.
What to look for in a VPN for Comcast Xfinity
Before choosing a VPN for Comcast let's go through all the important features you should keep an eye for.
The best Xfinity VPN should have the following features:
High speed for streaming
P2P torrenting enabled
Strong privacy and security protocols
Multiple device compatibility with simultaneous connections
High Speed for streaming – The main reason you would want a VPN for Xfinity is to be able to stream videos.
You should look for VPNs with an average download speed of at least 70 Mbps.
Anything below that speed would make it annoying to watch Xfinity videos.
P2P Torrenting Enabled – For the same reasons Comcast is limiting access to torrent sites, so do some VPNs.
The high bandwidth required by streaming and Torrent sites is simply too much for some VPNs to handle.
Only several VPNs actually allow P2P Torrenting through their servers.
Since Xfinity are throttling all torrent sites, a good VPN to bypass Xfinity throttling will have P2P torrenting enables and unlimited bandwidth.
Strong Privacy and Security Protocols – Most VPNs today have a high standard when it comes to securing your connection.
AES-256 bit encryption is the most common protocol, and also one of the strongest in the world.
Some VPNs also provide additional security like DoubleVPN and protection against malware and spyware.
Most importantly you should look for VPNs that provide a Killswitch and DNS Leak Protection.
To keep your online identity truly anonymous and private these features are a must.
Multiple device compatibility with simultaneous connections – Last, but not least a good VPN for Xfinity will be able to give you the flexibility to watch Xfinity on any device whether it is your PC, Mac, Android or iPhone.
In addition, look for an Xfinity VPN that provides simultaneous connection of several devices.
Best Xfinity VPNs
#1 ExpressVPN – Best VPN for Xfinity
ExpressVPN is the best Xfinity VPN as it provides everything you need from a VPN for Xfinity and much more.
It is truly the VPN market leader and is considered a premium VPN that will serve you for many other purposes as well such as unblocking sites and streaming services.
Highlights:
85 Mbps. Download speed on Avg.
P2P torrenting enabled.
Killswitch & DNS Leak Protection
AES 256-bit encryption over OpenVPN with SSTP protocol – highest security levels.
Supports all devices and 3 simultaneous connections.
Pricing:
#2 Cyberghost – Best VPN for Xfinity
Cyberghost have gone through immense improvements lately, and are currently one of the top VPNs in the market.
Cyberghost is a great VPN with all the required features for Xfinity and comes with very attractive pricing plans.
Highlights:
88 Mbps. Download speed on Avg.
P2P torrenting enabled
Killswitch & DNS Leak Protection
AES 256-bit encryption over OpenVPN protocol – good security levels.
Supports all devices and 7 simultaneous connections.
Pricing:
#3 PrivateVPN – Best VPN for Xfinity
PrivateVPN is a solid VPN, which specializes in privacy.
It is also a very good VPN for streaming and torrents, all of which make it a good choice for Xfinity.
Highlights:
73 Mbps. Download speed on Avg.
P2P torrenting enabled
Killswitch
AES 256-bit encryption over OpenVPN protocol – good security levels.
Supports all devices and 6 simultaneous connections.
Pricing:
Bottom Line
Comcast is one of the most popular ISPs in the USA.
It is also one of the most scrutinized ISPs, and rightfully so, for being highly intrusive and preferring profit over user experience.
Comcast Xfinity has been known to throttle internet speed and monitor private browsing data.
Xfinity is also blocked to anyone outside the US, who wishes to stream videos on the platform.
By using a VPN you can tackle all three issues and enjoy Xfinity privately and safely anywhere in the world.