CyberGhost VPN Reviews
Find out how Cyberghost ranks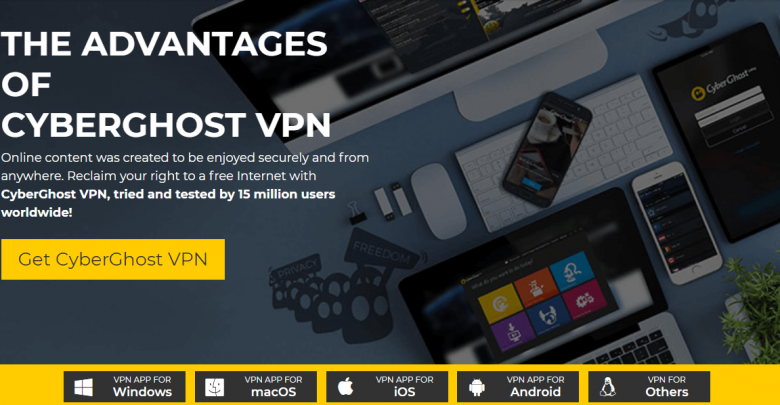 CyberGhost is a trusted VPN provider that is unlikely to let you down.
It has high-level encryption and a policy of keeping no logs, while their HQ is based outside the dreaded '14-eyes' network.
It's a solid VPN with no real flaws, and it has a lot going for it. Throughout this VPN review, I'll analyze and inspect all the important features and rank Cyberghost according to my findings.
Get Cyberghost – Limited time offer of 73% off; 45-day money back guarantee
My Review on CyberGhost is based on the following criteria:
Usability & Interface – I test both the user interface provided by Cyberghost's desktop and mobile Apps and the actual VPN usability.
What is its strength and what are its weaknesses in terms of what it can offer, and how useful it is as a VPN? How did Cyberghost rank?
Speed – On every VPN provider I test, comprehensive speed tests are a must.
I test speeds using different devices, different browsers and different servers and IP connections.
Speed is one of the most important factors in my opinion, and I review Cyberghost against all the harshest tests. Was Cyberghost's speed fast enough?
Security Protocols – VPN's are all about security and privacy.
This is probably the main reason VPN's have been invented in the first place.
This is the reason why so many people and using VPN's nowadays. Cyberghost have some interesting security and privacy features. Are they any good?
Servers & Performance – When it comes to VPN's, servers are options.
The more servers you can access through, the more of the internet you can unlock.
Servers and geo-locations can also influence other important features such as speed, security and which websites you can unblock.
Did Cyberghost's servers live up to my expectations?
Customer Support – Although some VPN's are wrapped nicely, a VPN is still a very technical product.
At some point, you might have technical or usability questions, and a good quick answer is expected.
A good customer support can go a long way, and it is something to look for before choosing a VPN. What did I think of Cyberghost's customer support?
Pricing – In the end, it's all about the money. We want the best deal we can get, for the best possible product.
There's always a balance to keep between VPN quality and price, and I try to evaluate the overall value of this equation. How does Cyberghost rank in pricing?
CyberGhost Review
Key Info
Parent Company: CyberGhost S.R.L.
Geographic Location: Romania
Year Established: 2011
Number of Simultaneous Connections: 7
Refund Policy: 30-day money-back guarantee
Available Platforms: Windows, Mac, iOS, Android, Linux
CyberGhost Usability & Interface – 8.9/10
The Cyberghost interface is well-designed, though it does get a bit too technical and complicated at times.
It took me several attempts to fully understand all the features I can get with Cyberghost and the functionality was not intuitive at all.
That said, once I figured it out, I've found a really good VPN.
One thing Cyberghost have not been 100% transparent about is if they indeed unblock Netflix.
On their interface, you can choose what you want to use the VPN for streaming, and then find a very nice list of worldwide streaming services supported. Netflix included.
When I actually tested it, I couldn't override the Netflix proxy error – meaning, Netflix is on to Cyberghost and can detect when someone's trying to use them in order to unblock the Netflix catalogs.
On other streaming services they offer things went smoothly and I was able to stream online sports and catch-up on BBC iPlayer shows.
Very simple and easy starting point. This is where you need to choose for what purpose you want to use Cyberghost for.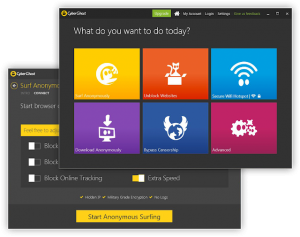 Next steps are getting a bit more technical and the impact of each feature is unclear.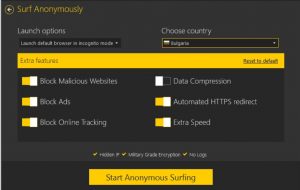 Choosing your server – The user interface is daunting. But overall, functionality is very good.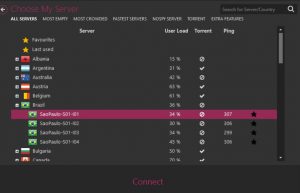 CyberGhost Speed – 9.8/10
Speeds are notable across the board. CyberGhost download and upload speeds are faster than the norm, and you'll be free to download torrents via P2P sharing.
If you are looking for a VPN for streaming, then Cyberghost is a good choice.
I could not connect with Netflix, however, there are many other streaming services that you can use with Cyberghost and enjoy a fast streaming experience.
If you're looking for a high-speed VPN for Europe or North America you'll struggle to find much better.
I've tested Cyberghost on 3 different devices, with simultaneous connections and individually.
This VPN held strong with high Download/Upload speeds, no matter how many heavy tasks I ran.
I managed to torrent and stream at the same time and, although speeds were impaired a bit, it wasn't actually felt.
CyberGhost Security Protocols – 9.5/10
If you're more interested in privacy, you'll be pleased to hear that CyberGhost will keep you secure.
They have the standard AES 256-bit encryption with OpenVPN that you'll find with any legitimate provider, while they keep no logs of your activities.
CyberGhost do keep light connection logs for up to 30 days, but they're deleted after a month. (Their explanation is that they want to make sure that people are actually using the VPN.)
It should also be mentioned that CyberGhost provides a kill switch, as well as the ad-blocking and anti-malware that works in the background to keep you safe while browsing.
Privacy & Security Protocols Comparison
| Total Score | 9.3/10 | 9.4/10 | 9.1/10 |
| --- | --- | --- | --- |
| | CyberGhost | NordVPN | PrivateVPN |
| Open VPN (UDP/TCP) | + | + | + |
| PPTP | + | - | + |
| SSTP | - | - | - |
| L2TP/IPSec | + | + | + |
| IKEv2 | - | + | + |
| First party DNS Servers | + | + | + |
| Proprietary Protocols | - | - | - |
| DNS Leak Blocking | + | + | - |
| Killswitch | + | + | + |
| No-Logs Policy | - | + | + |
CyberGhost Customer Support – 8.5/10
Cyberghost's customer support services are disappointing, to say the least.
They offer 3 types of customer support methods. Live chat, Email, and an elaborate FAQ.
For starters, live chat is not 24/7.
In fact, it is barely 12/7. By the time I did manage to speak with a live agent, which took me some time, I did get quick replies and knowledgeable answers.
To reach Cyberghost via email is virtually impossible.
Starting with the fact that for some reason, all customer support inquiries are sent to a 3rd company who supposedly manage this service on behalf of CyberGhost.
Moreover, they do not give answers to technical questions. This makes the email are redundant method to use in order to reach out to Cyberghost's customer support.
On the bright side, their FAQ is very informative and comprehensive.
They have a very useful search box where you can write any question/query you may have and find instant answers and information to what you need.
CyberGhost Pricing – 9.8/10
Almost a perfect score here! Overall Cyberghost offer a very good VPN, but the topping on the cake is but all means the unbeatable prices they offer for their product.
Each one of the 3 pricing plans offered, comes with a 30-day money back guarantee. Nothing further to add when you see their pricing plans:
Bottom Line – 9.3/10
CyberGhost offers the perfect mix of speed and security at a great price.
It allows users to stream and torrent files quickly, safe in the knowledge that they won't be receiving any letters in the mail from their ISP.
The connection logging is a sore point, but they're upfront and honest about it, while their servers are both fast and plentiful.
It's a great VPN that comes in at a cheap price for their longer deals, and it's highly recommended by me.
Get Cyberghost – Limited time offer of 73% off; 45-day money back guarantee