TunnelBear Reviews
Our verdict on TunnelBear VPN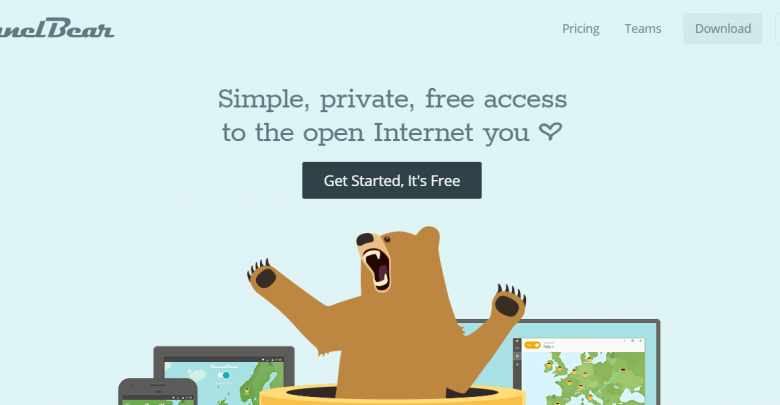 Summary – TunnelBear is a veteran VPN in the market, and has always stood out as a great free VPN.
During 2018, Mcafee announced that it purchased TunnelBear VPN which started a lot of rumors and speculations on what this acquisition may bring to the well-known VPN.
On the one hand, Mcafee is a reputable company with endless resources, which can easily take TunnelBear to the next step in becoming one of the industry's leading VPNs.
On the other hand, Mcafee is, first of all, an Antivirus company, which means they might want to take advantage of your data and browsing logs.
Although currently, TunnelBear does not keep your logs (which is uncommon for a free VPN), this may change in the near future.
Read our TunnelBear review to see how we rank it and what we thought you should know about TunnelBear.
My review of TunnelBear is based on the following criteria:
Usability and interface
Speed
Supported VPN Protocols
Servers and Performance
Customer Support
User Interface – 9.6/10
Let's start at the beginning.
TunnelBears opening statement on their homepage is ' Get Started, it's free'.
A  quick click later, and you're already on your way of installing TunnelBear VPN.
No forms to fill in, no credit card information required.
TunnelBear stands out in it's shocking attention to detail when it comes to usability as well as design.
The user interface is a bright and inviting array of colors, and the bears add to this with a casual and understandable diction.
Boasting an outstandingly simple step up, The app is riddled with bear-shaped easter eggs.
TunnelBear's unique value is in its simplicity, especially towards novice users. TunnelBear's inviting design and simplicity achieves just that, catering a unique and enjoyable experience for users of all proficiencies.
Speed – 6.7/10
TunnelBear does O.K. in speed tests.
My baseline speed for testing was about 70 Mbps. Before discussing the results, it's important to remember that there are many factors that influence speed.
Some of these factors are controlled by the VPN, such as server quality and bandwidth load.
Other factors, however, are outside of the VPN's control, such as your network settings, computer CPU, and potential interference from your internet provider.
Nearby VPN server: Here was the nearest server I tested, in Canada TunnelBear had a download speed of: 50 Mbps download speed.
TunnelBear's speed with a VPN server in the United Kingdom was about 30 Mbps. This is more than a 50% drop off in speed.
I also ran tests with other servers in Europe as well as Canada and Australia. The results were decent throughout the server network.
On average, I tested a download speed of ~35 Mbps.
I did not have any issues with dropped connections or other network problems and runs with less CPU.
All in all, compared to other free VPNs, these are respectable speeds, but in no way are they best in class, and this is where TunnelBear seems to stand in the middle of the pack amongst its competitors.
Supported VPN Protocols – 8.3/10
| Device Types | Protocols | Data Encryption | Data Authentication | DH Group |
| --- | --- | --- | --- | --- |
| Windows | OpenVPN/IKeV2 | AES-256-CBC | SHA1 | 2048 bit DH Group |
| Android | OpenVPN | AES-256-CBC | SHA256 | 4096 bit DH Group |
| Mac OS X | OpenVPN/IKeV2 | AES-256-GSM | SHA256 | 3072 bit DH Group |
| iOS 9 and later | IPSec/IKeV2 | AES-256-GSM | SHA256 | 3072 bit DH Group |
Customer Support – 8.5/10
24/7 In-House Support.
You can get in touch with support directly from the TunnelBear website in the members area.
TunnelBear offers responsive and professional support.
There is no option for live chat support, questions are answered in less than 24 hours, regularly within 2 during business hours. TunnelBear handles all support with in-house professionals.
Although they do not have a live chat option, I asked them several technical support and general knowledge questions and I got quick and professional replies.
Pricing – 7.9/10
On this section, the score refers only to the paid plans TunnelBear offers.
Tunnelbear offers both free (limited to 500 Mb of data, an additional 1GB of data available upon tweeting to @TheTunnelBear) and paid plans.
Paid plans are offered in two plans.
Giant ($9.99/month): offering 5 devices and unlimited data across platforms.
Grizzly ($4.99/month paid annually): with the same features but at a discounted price.
Both paid plans are on the mid-range in comparison to the Premium VPN market.
Bottom Line: 8.2/10
TunnelBear is above all a great free VPN.
You can get a nice 1 GB of data for free, and it supports a good variety of VPN protocols.
As a free VPN, TunnelBear is not bad at all.
I, however, would not hurry to try out its premium plans, just because there are better deals to find at this price range.
Still, if you use TunnelBear and appreciate good user interface, reliable VPN and helpful Customer service, then I see no reason why not to stay with TunnelBear.