Trending
How to watch US television from outside the US
5 Best VPN's to watch US television abroad

Summary – US television has become amazing in recent years.
The only problem is that streaming us television from outside the USA is, for the most part, impossible.
Streaming American television shows is limited to the US alone.
The only way you can watch  US television abroad, in Australia, UK, Canada, Europe or any other place on earth is by using a VPN.
A VPN will mask your IP address, allowing you to change it to a US IP.
Once you are connected through a VPN, you will have complete access to US television channels from any Country in the world.
The most recommended VPN for the job is ExpressVPN.
American television is in its golden era.
The TV shows in the last few years have gone through an incredible change.
Top rated actors and directors are gradually leaving the silver-screen behind in favor of the (not so) little TV screen.
Huge budgets are being diverted into television, which results in the highest quality of shows the world has ever seen.
Watching Game of Thrones, Westworld, Narcos, Billions (my personal favorite), or The Walking Dead, just to name a few, is an experience television just could not deliver in the past.
In addition to that, we the 'consumers', so to speak, have an endless choice of good quality content to choose from.
Services such as Netflix, Hulu, Amazon Prime, YouTube TV, HBO Now and more, are producing their own unique content, and they charge far less than traditional cable companies do.
This is the reason so many people, cut-off the cable companies and only stream TV online.
The only problem is that streaming US television abroad is impossible.
Why is US Television inaccessible from other countries?
If you are abroad and going online to a streaming service website such as Netflix, HBO Now, Amazon Prime, YouTube TV, ABC, CBS or any other, you will quickly find that it cannot be done.
All US online streaming and broadcasting channels are Geo-restricted.
What that means is that they allow access for local American IP addresses only.
In general, your IP address is your online fingerprint.
Your IP address is the internet's way of knowing where you are from, so it will serve relevant content to you.
Any website you go into sends a request to your computer or mobile device to receive this information.
There are legal and copyright issues that prevent official streaming channels from allowing people to stream their content outside the US.
For this reason, they are obliged to detect their users' IP address and block out IP addresses from foreign Countries.
Here are a couple of examples of how it looks like when they block you: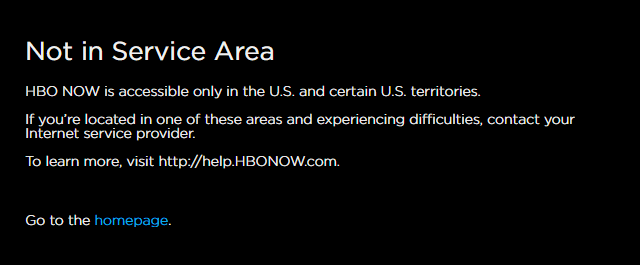 In addition, most networks and broadcasting channels are tied up with advertising deals, royalty payments, licensing fees, and sponsorships.
There are literally millions of dollars evolving around the American consumer who's tax dollars or membership fees may go to subsidize some of the content, and advertisers who pay to target their products to American audience only.
When non-US traffic comes in to stream this content, they place the broadcasting services in legal and financial risk. These are the reasons US television is inaccessible from other Countries.
These days, people (myself included) don't really care about the streaming channels' problems.
We all know there is good television to watch, and we see no reason why we shouldn't be able to do so.
The internet should be accessible to everyone, and just because streaming websites haven't got their business model sorted out and aligned with the 21st century, does not concern anyone but them.
How to watch US TV outside the US with a VPN?
By using a VPN you can trick the very mechanism that blocks you from watching us television online.
When you are connected through a VPN (Virtual Private Network) connection, you hide your IP address and encrypt your browsing session.
You can choose a US-based IP address, and make it seem as if your Geo-location is in the USA.
On the more advanced VPN's you get extra encryption and security layers which prevent your original IP to ever be detected or traced back to you.
Step-by-Step Tutorial
Pick a VPN of your choice. You can read my recommendations for the best VPN for watching US television online. There are certain things you should keep an eye for before making your choice.
Install and activate your VPN client.
Once activated, choose a US location and connect to US servers. This will change your IP address to an American IP address.
You can now access and watch US television through any broadcasting channel or streaming service you want. the internet currently sees you as an American user.
What to look for in a VPN for unblocking US television?
To make it simple and easy, I've prepared a list of features (sorted by importance) that you should look for when shopping for a VPN.
If you want to watch US television from outside the US, pay close attention to the features provided by the VPN you choose to stream with.
Speed – Look specifically for download speed. For optimal streaming, I recommend a download speed which is not lower than 70 Mbps.
Unlimited Bandwidth – Don't let bandwidth limitations stand in your way. Limited bandwidth would slow down your streaming speed up to the point where you can't watch anything. Always choose a VPN with unlimited bandwidth.
A large variety of US servers -In some cases, streaming services are actively blacklisting IP address commonly used by VPN's. This is why you should look for a VPN that can re-route you through thousands of different servers.
Compatibility with different devices and operating systems – Streaming comes in all shapes and forms. Some people like to watch on their laptops, some on their smart TV and some on their Tablets. Whichever device you use, you should make sure it is compatible with your VPN.
Multi-device connection – Why settle for watching on 1 device, when some VPN's let you set up 7 simultaneous connections? Make sure you get a VPN which answers your needs.
Unblocks advanced streaming services – Netflix, Hulu, Amazon Prime and HBO now, have very strong VPN detection bots and are constantly fighting back against VPN usage. Only the strongest VPN's are still able to override those Bots. If you intend to watch Netflix, make sure you get a VPN that supports Netflix.
Kill Switch – If your VPN gets disconnected for some reason, the kill switch will ensure your IP address isn't exposed. If your IP becomes exposed you won't be able to keep watching what you've been watching before the VPN got disconnected.
What is the best VPN for watching US television?
ExpressVPN is probably the best VPN for streaming US television. ExpressVPN answers each and every requirement on the list and more.
Highlights:
Average download speed of 85 Mbps.
Unlimited Bandwidth
1500 servers
Supports Netflix, Hulu, HBO, etc..
ExpressVPN also has one of the best customer support service, which may sound secondary but that's only until you need assistance, facing some technical problems or just wanting to learn more about the VPN features.
Pricing:
1 Month – $12.95
15 Months – $6.67 / month
6 Months – $9.99 / month
Get ExpressVPN for streaming US television
Cyberghost went through huge changes lately, and have improved in almost every relevant category.
Highlights:
Average download speed of 88 Mbps.
Unlimited Bandwidth
2200 servers
Works with Netflix
The coolest feature Cyberghost have is giving support for up to 7 simultaneous connections.
You can have your whole family streaming on different devices at the same time!
This feature really comes in handy if you're planning to go on long drives. Everyone can pass time watching whatever they want.
Pricing:
1 Month – $11.99
18 Months – $2.75 / month
6 Months – $4.99 / month
Get Cyberghost for watching US television abroad
PrivateVPN are very focused on security and privacy technology.
They do manage to keep their speed reasonably fast and unblock all of the most protected streaming services.
Highlights:
Average download speed of 73 Mbps.
Unlimited Bandwidth
80 servers
Works with Netflix
The biggest disadvantage PrivateVPN has is their limited number of servers.
They would still be able to grant you access to all streaming channels, but as they all tighten their security protocols, it may be more difficult in the future.
Pricing:
1 Month – $7.67
13 Months – $3.88 / month
3 Months – $5.25 / month
Get PrivateVPN to unblock American TV
NordVPN is a veteran in the VPN market. They are famously strong in P2P torrenting, but when it comes to streaming they're somewhere in the mid-range.
Highlights:
Average download speed of 46.5 Mbps.
Unlimited Bandwidth
4331 servers
Works with Netflix
Slow download speed, will cause the stream to buffer a lot and to overall run slowly and un-smoothly.
NordVPN is supporting Netflix, and their gigantic amount of servers would probably never be detected by Bots.
Pricing:
1 Month – $11.95
1 Year Plan – $5.75 / month
2 Year Plan – $3.29 / month
3 Year Plan – $2.75  /month
Get NordVPN to stream US television shows online
TunelBear is a free VPN which is its biggest advantage.
You can use it to watch and stream US television, but a free VPN will not give the same experience as a premium VPN.
Highlights:
Average download speed of 36 Mbps.
500 MB. per month – Limited Bandwidth
Pricing: Free
Get TunnelBear to watch American TV free
Bottom Line
If you are outside the USA trying to stream and watch American television, you simply cannot.
For legal and financial reasons, all American broadcasting channels and streaming services must pose Geo-restrictions on their services.
Those Geo-restrictions, block out anyone who's not in the US from using the service.
By using a VPN, you can get around these Geo-restrictions and stream US television from anywhere in the world.