VPN for UAE – How to Unblock Websites in UAE
Best VPN for UAE Dubai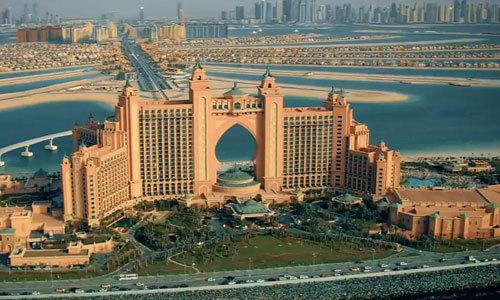 Summary – Whether you are living in the United Arab Emirates, or just visiting, you probably noticed that your internet is somewhat limited.
The UAE Government is actively blocking websites and services for numerous reasons.
It isn't just porn or gambling sites that are blocked, they have also blocked VoIP (Voice Over IP) services such as Skype.
The strict internet censorship doesn't end there in UAE and Dubai.
The internet, and therefore your private browsing session is being monitored and logged. If you are not careful, your browsing history can be used against you.
The only way to ensure safe and private internet, as well the ability to unblock websites, is by using a VPN for UAE.
For getting around censored websites with complete privacy we recommend that the best VPN for UAE is Surfshark
Best VPNs for Dubai / UAE – Summary
The UAE and Dubai are spectacular places to live in or just to visit.
Some of the world's most fascinating landmarks can be found in Dubai such as the Burj Khalifa –  the tallest skyscraper in the world, or the Palm Jumeirah – the man-made islands shaped like a palm tree.
The UAE and Dubai however, are also notoriously well-known for their strict censorship laws, which apply, among other things, to the internet.
Your internet and online services are extremely restricted and your browsing session is monitored.
In order to get around this internet censorship, you need to use a VPN.
If you use a VPN for UAE, you will be able to unblock and access any website you wish, such as adult content (porn sites) which are strictly banned in UAE, and also unblock American Netflix, BBC iPlayer, and other Geo-restricted services.
Is it legal to use a VPN in UAE?
The legality of VPN usage in the UAE is a bit confusing, so let's make it clear.
There is a distinction between a legal and an illegal use of a VPN under the UAE cybercrime laws.
An illegal VPN use becomes so when it is used to circumvent blocked content that is illegal to access such as accessing gambling sites or torrenting copyright-protected content.
Anyone caught using a VPN illegally can get heavy fines of anywhere between Dh50,00 to Dh3,000,000 ($15,000 – $750,000 USD) or even get life in prison.
But the harsher punishments are served only to very serious cyber crimes.
Any other use of a VPN falls under a grey-area which is mainly looked-over and disregarded.
For example, although VoIP services such as Skype are blocked, local telecommunications companies are openly allowing users, for a small fee, to use their dedicated WiFi and unblock Skype.
So, although restricted by law, it is commonly looked-over and disregarded.
How does a VPN work?
VPN is short for Virtual Private Network. By connecting to a VPN, you re-route your internet connection through a private tunnel.
When you come out the other side of this Tunnel, you change IP address and additional layers of security are added to your browsing.
Your IP address is actually your online fingerprint. Your Geo-location and browsing history can be traced back using your IP address.
When you use a VPN, your Geo-location changes to the location of your choice and your online presence becomes untraceable.
In addition, most VPN's or at least the ones I recommend to use will provide additional security and privacy protocols to protect you.
These security protocols encrypt your session and protect your masked IP from being detected.
By using a VPN in UAE you will gain complete internet freedom which is otherwise unavailable.
Get Surfshark – Recommended for UAE
How to unblock websites with a VPN in UAE Dubai?
When you use a VPN, you trick the local ISP (Internet Service Provider) in Dubai to thinking you are somewhere else. The ISP's in the UAE use local IP address ranges to block websites and online services.
When you attempt to enter a website, the request goes through the ISP. They then 'ping' you, only to discover your IP is not local, and no restrictions can be applied to you.
Get websites unblocked in UAE (Step by Step Tutorial)
Get a VPN service suitable for unblocking websites in UAE Dubai. I've reviewed and found the best VPN's for UAE. 

Important – Some VPN services are not working in UAE. If you intend to travel there, make sure you buy and install the VPN prior to your trip. If you are already in the UAE, you should try to use a

free Proxy

just to get the VPN. a

Proxy

should not

be used for the long-term

as it lacks the proper security protocols. Use it only to download the VPN client, and not to browse to blocked websites.

Install the VPN Client and connect through a Geo-location of your choice.
Check if additional security features are available on your VPN client and if they need to be manually activated.
Enjoy internet freedom.
What to look for in a VPN for UAE?
In order to help you make the best choice, I set out to map the most important things to look for in a VPN for UAE.
Due to the heavy Governmental censorship and monitoring, the most important features to look for are security and privacy related.
You want to make sure your online identity is hidden and your browsing sessions cannot be logged or traced back to you.
This is especially important since VPN mostly falls under a legal grey area, and it is always better safe than sorry.
Here are the Security features you should keep an eye for:
AES-256 bit encryption
DNS Leak Protection
Kill-Switch
Strict No-Logs policy
If you are looking to unblock YouTube videos, make VoIP chats or stream Netflix you should also look into speed indicators.
For streaming purposes, I would be looking at a minimum download speed of 70 Mbps. anything lower than that will result in poor streaming quality.
UAE VPN Security and Privacy Protocols Comparison
Best VPN's for UAE and Dubai 2019
#1 SurfShark – Best VPN for Dubai and UAE
Surfshark has proved to be one of the best VPN services all around.
In addition to strong security VPN protocols, and great speed Surfshark is showing great results for unblocking streaming platforms such as Netflix and unblocking censored sites such as adult content websites.
Surfshark has also come up with a very good offer at a great price of $1.99 per month.
Currently, no other VPN service competes with this offer.
#2 ExpressVPN – Best VPN for UAE
ExpressVPN is taking the lead as the one of best VPN for UAE Dubai. It not only provides very strong security measures but also great speed performance to actually enjoy your free internet with.
ExpressVPN is also one of the few VPN's that support unblocking Netflix. So that's a big bonus!
In terms of privacy and security protocols, ExpressVPN offers a 256-bit encryption over 4 VPN protocols to choose from: OpenVPN with TCP/UDP, SSTP,  L2TP/IPSec,  PPTP.
Which you choose depends on your needs. However, since security is what we should care for most, in this case, I recommend using the SSTP.
This means your connection would go through an SSL protocol. This is basically, as secure as the internet can come.
With ExpressVPN you also get the following features:
Kill-Switch
DNS Leak Protection
No logs
Get ExpressVPN for unblocking websites in UAE
#3 NordVPN – Best VPN for UAE
NordVPN is veterans in the VPN industry and has been proven to work with unblocking sites in UAE.
NordVPN is one of the top VPNs in the industry,  and they are trying to penetrate the market with extremely competitive prices.
What makes NordVPN stand-out are its advanced security features such as DoubleVPN and CyberSec and the fact that it is currently supporting Netflix.
On NordVPN your connection is also encrypted with a 256-bit encryption with OpenVPN (UDP/TCP), PPTP, L2TP/IPSec protocols to choose from.
They also provide:
Kill Switch
DNS Leak Protection
With regards to their Logs Policy – They have a strict 100% no logs policy.
Get NordVPN for unblocking websites in UAE
#4 PrivateVPN – Best VPN for UAE
PrivateVPN are a solid VPN with strong security and privacy protocols. Keeping their users' privacy and safety online is what they're standing for, and is also implied by their name.
PrivateVPN uses the AES-256 bit encryption over Open VPN (UDP/TCP), PPTP, L2TP/IPSec, and IKEv2 security protocols.
Additional features:
Kill Switch
No Logs Policy
Get PrivateVPN for unblocking websites in UAE
Bottom Line
If you live in the UAE or planning a visit, you must know about the internet limitations and restrictions.
The Government is censoring a very large amount of websites and online services, and they access to those sites is completely blocked, unless you use a VPN.
VPN's legal status is currently in the grey area, but as long as you don't use it for illegal cyber-crimes, you are not breaking any laws.
Even if you did go to Porn sites for example, which is considered illegal in the UAE, no one would ever be able to trace it back to you.
Some of the VPN services for UAE are blocked themselves. I recommend using a free proxy, just to override that block.
A free proxy is too dangerous to be used instead of a VPN on a regular basis. The best and most recommended VPN for unblocking websites in UAE is Surfshark.