How to Install a VPN on Amazon FireStick
Unblock Amazon Fire TV / FireStick with a VPN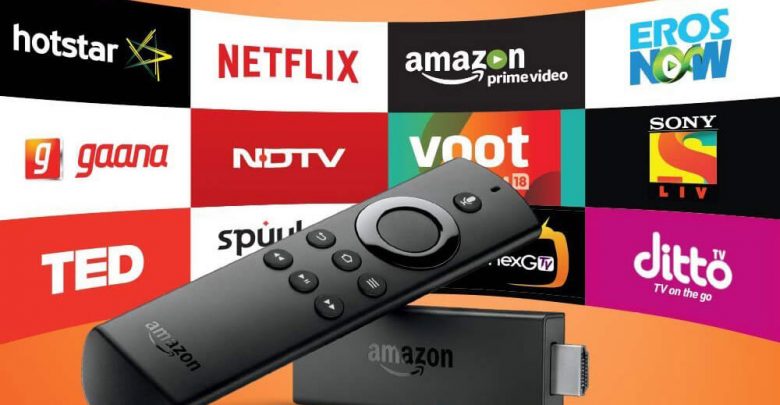 Summary – Amazon FireStick is a simple USB based device that will turn any TV into a streaming platform.
Amazon FireStick gives access to a huge video library with thousands of TV shows, movies, documentaries and more.
Most of the content available via the Amazon FireStick, however, is Geo-Restricted and can only be accessed from authorized Countries.
These Geo-Restrictions are used by almost every online streaming service in the world, such as Netflix, Hulu, BBC iPlayer, Amazon Prime and HBO Now, due to copyright and other regulatory and legal issues.
If you live outside the US, in many Countries you won't have access to the Amazon Fire TV service at all, and in others, you will have access to a very limited video library.
Even if you live in the US, not all international content will be available to you.
Either way, in order to get the most out of your Amazon FireStick and unblock any streaming service you will need a VPN.
How to install a VPN on Amazon FireStick
Need to Know – Amazon FireStick / Fire TV is an Android-based operating system, but it doesn't allow access to Google Play to download a VPN App.
I will explain how to install a VPN on your Amazon FireStick in a few simple steps, so you will be watching your favorite shows in a matter of minutes.
The best and easiest method to install a VPN on your Amazon Firestick is by downloading the App via the Fire TV App Store.
It is also possible to download a VPN through directly downloading the App APK (Application Package Kit) file, but I do not recommend doing it as it is far more complicated, and you will not get automatic App updates which will result in the lower performance of your VPN.
How to Install a VPN via the Fire TV App Store (Step by Step Tutorial)
Here's the step-by-step guide to downloading the best VPN for Amazon Firestick through the Fire TV App Store.
Note – This solution works only for FireStick version 2.0 and up. The earlier version has no support for Apps.
Activate your FireStick
On your Home Screen click on Apps
Go to Categories > Utility
Search for 'ExpressVPN' or a general 'VPN' query to see all VPN Apps supported by Fire TV (not all are good though)
Install VPN client App and click on Open 
Login using your username and password
Choose the Geolocation you want to connect through
Once you are connected, you can click on the Home button and start streaming freely.
This whole process should not have taken you more than 2-3 minutes.
What to look for in a FireStick VPN
The most important feature to look for in a VPN for Amazon FireStick / Fire TV, like any other VPN for streaming, is speed.
Specifically, you should look at the Download speed, which is more relevant when you are streaming.
My benchmark for quality streaming is a minimum Download speed of 70 Mbps.
Anything below that will result in slow loading and low-quality picture.
Next, you should look into security protocols and features.
There are two main advantages to a VPN with strong security protocols.
First, you can stream freely with complete privacy, knowing you are untraceable.
This is especially important if you live in, or traveling to a Country where there are strict censorship laws for streaming certain content.
Second, some VPNs have additional security features such as Kill Switch and DNS Leak Protection.
Both features are made to ensure that even if for some reason your VPN connection fails, your original IP will not be exposed.
If your IP gets exposed, it could get you disconnected from Fire TV instantly.
Last, you have to use a VPN that has an App on the Fire TV App Store. Although many VPNs are starting to add dedicated Apps to the Fire TV App Store, not all of them do.
Some VPNs will say they support Amazon FireStick using their Android App APK.
As I mentioned before, don't go in there. It is a complicated process with high maintenance, as you will need to re-do the entire process whenever a new VPN update comes out in order to not compromise its performance.
Best VPNs for Amazon FireStick / Fire TV
The VPNs I chose as the best VPNs for FireStick, are those who answer all the requirements at high standards and are available on the Fire TV App store.
#1 ExpressVPN – Best VPN for Amazon FireStick
ExpressVPN is the leading VPN in the industry.
It is no surprise that ExpressVPN is also one of the first VPNs to add their App onto the Fire TV App Store.
In addition, it is one of the fastest VPNs in the industry, with the highest level of security protocols.
Highlights:
Average Download speed of 85 MBps.
AES-256 bit encryption over 4 security protocols, including the highest standard SSL connection SSTP.
Kill Switch
DNS leak prevention
ExpressVPN available on FireTV App Store.
ExpressVPN has a widespread network of servers around the world and enables almost global coverage.
This is a big plus for anyone who is interested in worldwide content and not just US content.
Pricing:
ExpressVPN offers a 30-day money back guarantee, no questions asked.
In addition, they are currently offering a 3 extra months free promotion for the 1-year subscription plan.
1 Month – $12.95
18 Months – $6.67 / month
6 Months – $9.99 / month
Get ExpressVPN for Amazon FireStick
#2 PrivateVPN – Best VPN for Amazon FireStick
PrivateVPN is a technologically advanced VPN, which gives security protocols an emphasis.
Their encryption and security technology, also makes PrivateVPN very efficient in unblocking websites and streaming services.
Highlights:
Average Download speed of 73 MBps.
2048-bit with 'military grade' AES-256 encryption
Kill Switch
PrivateVPN available on FireTV App Store.
PrivateVPN has 80 servers in 52 Countries. This will probably cover most of what anyone might want, though not a complete global network.
What they lack in worldwide server networks, they compensate in price.
Pricing:
PrivateVPN offers a 30-day money back guarantee and 1 months extra for free on the 12 months subscription plan.
1 Month – $7.67
13 Months – $3.88 / month
3 Months – $5.25 / month
Get PrivateVPN for Amazon FireStick
How does a FireStick VPN Work?
A VPN stands for Virtual Private Network, and what it does, in short, is to reroute your internet connection through encrypted servers in chosen locations.
In other words, a VPN connection will change your IP address, which is essentially your online fingerprint, and give you a 'fake' location.
A proper VPN will let you choose your new 'fake' location and set it up according to your needs.
This will let you unblock any Geo Restricted content on FireTV such as Netflix, Hulu, BBC iPlayer, Amazon Prime and more.
The most popular Geolocation is the US of course, with the biggest video catalogs available.
A VPN will also give you extra layers of security, which will make your online presence practically invisible.
This is a good thing in case you were wondering, as a VPN lets you override local censorship and online blocks while remaining untraceable.
After you change your IP address with an encrypted connection you will be able to safely access any blocked or restricted content on the internet, in complete anonymity and privacy.
Bottom Line
Amazon Firestick is an awesome product for turning your TV into a streaming platform.
The only downside is that most streaming services available through the Amazon Fire TV have Geo-restrictions.
That means that most content cannot be accessed unless you are in a specific Country.
The best and easiest way to unlock Amazon FireStick and override the restrictions is by using a VPN.
A VPN will give you a 'fake' IP address, which will make you seem as if you are in a different Country, which has access to Amazon Fire TV and any other streaming service.
I recommend and conclude that the best VPN for FireStick is ExpressVPN.