Trending
Watch Premier League 2019 – Find the Cheapest Deals
Stream Premier League from anywhere with a VPN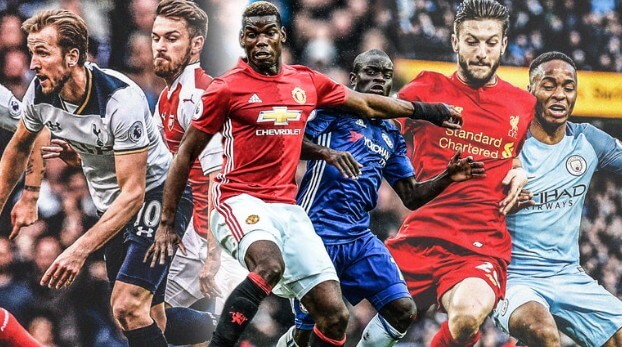 Summary – The 2018-19 Premier League Games have begun!
Everyone is out to find the best and cheapest solution for watching Premier League live.
Football fans around the world have waited with great anticipation to watch the world's best league play.
Several countries around the world are broadcasting the Premier League, though to watch the games you would need to pay extra.
Each channel that shows the live Premier League matches have different rates.
Along with the right VPN, I will explain how you can find the cheapest deal in the world for watching the Premier League Season.
As a matter of fact, if you follow my guidelines you'd be watching the entire season for exactly £6.33 a month (around $8 USD).
You won't find a cheaper deal anywhere in the world ! and here's how to get it…
The best and cheapest VPN for watching Premier League 2018/19 is Cyberghost.
Where to Watch Premier League?
The rights to stream the Premier League Season of 2018-19 are mostly dominated by Sky Sports and BT Sport.
Both channels will be splitting the Premier League Broadcasts of 168 matches out of a total of 380 matches.
Sky Sports – Will broadcast 126 Premier League Games
BT Sports – Will broadcast 42 Premier League Games
Other streaming platforms in the UK and around the world will also be broadcasting Premier League Matches.
Platforms such as:  NOW TV, NBC Sports, TSN and BeIN Sports offer different packages to stream the Premier League Season and are the recommended method if you will be watching the games from outside the UK.
In addition to the conventional channels who control the rights to broadcast the games, two major new players joined in – Amazon and Facebook, but they will only start broadcasting live Premier League Matches next Season of 2019-20.
The Best Networks to Watch Premier League – inside and outside the UK
Network
Price
Watch Premier League in the UK
Sky Sports (Sky Customers Only)
£18 /month on top of your Sky bill.
BT Sports (BT Customers Only)
£6 /month on top of your BT TV Package.
BT Sports (Non-BT Customers)
£27.99 / month + 3 months free
Watch Premier League Outside the UK
NOW TV
£14.90 / month for the whole Season
NBC Sport Gold
£4.16 / month for the whole Season
TSN
£24.99 / month for the whole Season
BeIN Sports
£16.50 / month for the whole Season
Seems that if you want to stream Premier League outside the UK, the cheapest network is NBC Sports.
If you are in the UK and are a BT customer then BT Sports would be the cheapest solution for you, however, if you are not a BT customer then NBC Sports would still be the cheapest option.
In order to be able to use NBC Sports from outside the US to watch the Premier League, you would need a VPN.
Keep on reading my guide for choosing the right VPN for Premier League, and you will see that even with the VPN price, you will still have a cheaper plan than Sky Sports or any other alternative.
How does a VPN for Premier League Work?
Connect to a VPN
Change your IP address
Access the recommended streaming platform
As I mentioned, in order to get the cheapest deal for watching Premier League 2018 Season you should stream through NBC Sports platform.
The only problem is that NBC Sports is limited to US residents only.
Normally, that would mean you would need to use BeIN Sports if you are in East Asia or the Middle-East or NOW TV.
Since all of those options are more expansive, I will explain how you can stream the Premier League using NBC Sports from anywhere in the world.
This is exactly where a VPN comes in handy.
What a VPN does, in short, is to change your IP address by allowing you to connect through servers in different Countries.
This process is also referred to as 'Tunneling'.
You basically go through a VPN tunnel, where your connection becomes encrypted and your IP address changes.
Your IP address matters because this is the way websites across the internet learn where your physical location is.
Geo-restricted services such as NBC Sports, BBC, and even Netflix all 'ping' your browser to get your IP address and determine if you are authorized to enter or not.
When you fake your IP address using a VPN, you can fool those platforms into thinking you are local and get instant access.
It doesn't matter where you are from, with a VPN you can get access to NBC Sports and watch Premier League live.
How to Watch Premier League 2018 with a VPN (Step by Step Tutorial)
Get a VPN for Premier League – see my recommendations below for what to look for in a VPN for streaming Premier League and what is the best VPN for the job.
Activate your VPN client – Once your VPN is activated, connect to a US-based server or a UK-based server depending on which network or platform you want to use.
Subscribe to NBC Sports Gold – For the cheapest overall price. Connect to a US server, so you would be able to subscribe to NBC Sports.
Watch any match, anywhere – Whenever you want to watch a match simply connect to your VPN and start streaming using the platform of your choice. Enjoy!
What to look for in a VPN for streaming Premier League
Cheapest Price
Fast download speed
Multi-device compatibility
Simultaneous VPN connections
Since you have to pay in order to watch the Premier League and this guide is about getting the best overall deal for it, then the most important feature for a VPN would be its price tag.
Most VPNs aren't very expansive, though you would want to look for a VPN that's cheap but also able to provide a good streaming experience.
For this reason, you must also look for fast download speed.
Finally, you would want to be able to watch any match, at any time and from any device, so I suggest looking for a VPN which is compatible to all mobile devices and operating systems and enables simultaneous multi-device usage.
Free VPNs and Proxy Services for watching Premier League
Since I am discussing the cheapest ways to stream the Premier League, I must address the free option.
Yes, there are free VPN and Proxy services out there.
Neither the free VPNs nor the Proxy services would work for you, however.
Both options have limited speed and bandwidth, which are both crucial for live streaming.
But most importantly, neither option would be able to grant you access to any of the streaming platforms.
They are simply not sophisticated enough to fool NBC Sports or any other premium streaming platform.
Still, all the VPNs I recommend offer a 30-day money back guarantee.
So if you are looking to watch only specific matches, you can buy the VPN just for those matches and then cancel it and get your money back.
Best VPNs to watch Premier League 2018
#1 Cyberghost – Cheapest VPN for Premier League
Cyberghost is not only the cheapest VPN currently in the market (not considering free VPNs), it is also one of the fastest VPN services out there.
The two most important features in a VPN for Premier League streaming are price and speed and Cyberghost delivers on both and more.
Highlights:
Best Plan for Premier League: $4.99 / month on a 1-year subscription (cheaper prices for 2 and 3 years available).
Download speed of 88 Mbps. on average
Compatible with all mobile devices and OS's
Up to 7 devices can be connected at the same time
Get Cyberghost here – The most recommended VPN for streaming Premier League cheap.
#2 ExpressVPN – Strongest VPN in the market
When you're already getting a VPN, take a VPN that will give you more.
ExpressVPN is the best and strongest VPN in the market currently, and aside from giving you full access to the Premier League games, it will also unblock BBC iPlayer, Netflix, Amazon Prime and much more.
ExpressVPN also boasts very strong security and privacy protocols which is a good and important feature.
Highlights:
Best offer:  $8.32 / month on a yearly subscription
Download speed of 85 Mbps. on average
Up to 3 simultaneous connections on all devices
AES-256 bit encryption with an SSTP protocol – strongest security
Get ExpressVPN here – The best VPN overall.
#3 NordVPN – Reliable and fairly priced
NordVPN is considered a veteran in the VPN industry, which also makes it a very reliable VPN.
One of its strongest points is the number of servers and countries that are available to connect through.
Highlights:
Best Offer: $6.99 for a 1-year subscription
Download speed of 46.5 Mbps. on average
Connect 6 devices at the same time
4,875 servers worldwide and counting
Get NordVPN here – mid-range pricing for an extremely reliable VPN.
Bottom Line
There are several broadcasting platforms and networks around the world that are showing the Premier League matches live.
In most cases, however, it comes with a hefty price tag.
If you want to watch the Premier League and save money, you would most likely need a VPN.
Using a VPN you would be able to access the platform that is most suitable for your needs and has the best price in the world.
The combination of the cost of a VPN plus the cost of a cheap streaming network would still come out cheaper than using your standard local sports channel.
The VPN I recommend for streaming Premier League is Cyberghost due to its superfast speed and cheap prices.