Best VPN for Gaming – Why a VPN for gaming is essential
Playing a popular online game? Here's why you need a top quality VPN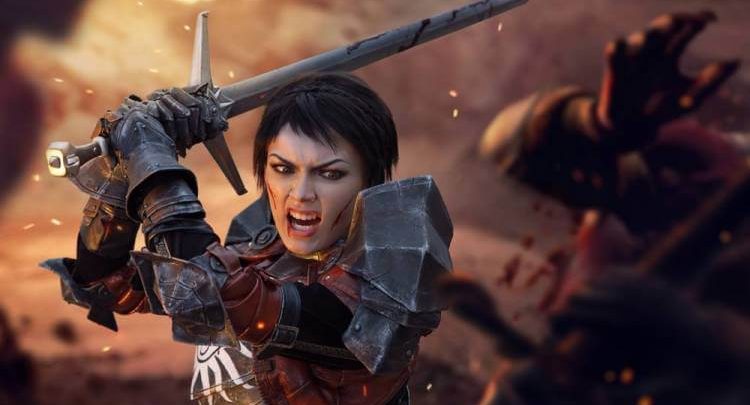 Summary – Gaming with friends online can be a fun way to unwind and relieve stress, but this popular activity is not without a variety of risks which should be guarded against at all costs.
If you are engaged in consistent online competitions, whether you're battling it out in Minecraft or dominating your foes in a League of Legends match, you should seriously consider utilizing a VPN for gaming.
A VPN is able to defend your computer against the possibility of DDoS attacks, as a VPN is able to mask your IP address against potential digital strikes.
A VPN for gaming will re-route your connection through multiple servers, thus allowing you to break through potential geo-restrictions and play your favorite game with friends regardless of where you are both located.
The best VPN for gaming is ExpressVPN.
The popularity of online gaming stresses the need for a VPN
Online gaming has exploded in popularity over the last decade, as there are approximately 1.8 billion gamers in the world, with 1.2 billion of those playing on a PC.
Clearly, gaming has become a widely-adopted, mainstream form of entertainment, and has increasingly grown in popularity for all age groups.
Unsurprisingly, the rise in the popularity of online games has also contributed to a surge in interest for live video gaming as a sport, as the global eSports audience increased to 385 million viewers.
As online gaming continues to grow as both a leisure activity and as a legitimate form of sport, users of all types will want to shield themselves against potential attacks from hackers and other malicious actors in cyberspace.
A great way to do this is to utilize an excellent VPN for your gaming needs.
Employing a VPN for gaming can also increase the amount of flexibility and freedom you are able to enjoy online, as a VPN can allow you to bypass annoying geo-restrictions, which can prevent you from playing your favorite game with friends in another country.
Why you should use a VPN for gaming
Protection Against DDoS attacks
Reduce Ping (latency) – If your ISP is throttling your connection
Get additional security protocols against hacks
Hide your IP thus your location and online identity.
You've just logged on to your preferred online gaming portal and you're amped to jump into the fray and dominate the competition.
Then, disaster strikes, as you are the unfortunate victim of a DDoS attack, slowing your internet connection to a crawl and essentially eliminating your chances of victory in the process.
If you've ever experienced a DDoS attack firsthand, you are acutely aware of the pain and frustration such an attack can bring about, as it will turn your gaming dreams into a digital nightmare.
The chances of being hit with a DDoS attack have increased significantly in recent years, as these attacks saw a 125% increase from 2015 to 2016, 55% of which affected online gamers.
Clearly, gamers need to seriously consider the stakes when they enter the world of virtual competition, which is why a VPN for gaming should be actively considered as a necessary component in every player's arsenal.
In addition, whether you are aware of it or not, most ISP's (internet service providers) actively slow down your connection speed when you are engaging in bandwidth-heavy tasks.
Gaming utilizes live streaming, voice-over-IP (VoIP) technology, and advanced graphics, all of which take a lot of bandwidth.
The process during which your ISP limits your connection speed is called throttling.
If you are looking to reduce your Ping, a VPN will come in handy if your ISP is throttling your connection.
If you live in the US, about 90% of all ISPs do throttle your connection, and it is not  much different anywhere else in the world.
With a VPN for gaming, you can override your ISPs bandwidth limitation, and avoid throttling altogether which will reduce your Ping.
How a VPN can protect you against DDoS attacks
In the age of cyber attacks and the increasing prevalence of hackers seeking to steal your data, every self-respecting digital consumer should make a VPN a priority.
Utilizing a VPN for gaming can dramatically reduce the possibility of becoming a victim of DDoS attacks, as a VPN will hide your true IP address.
A VPN is an effective tool to defend against such attacks, as it will encrypt your data and improve your overall security protocols by preventing hackers from being able to take advantage of a vulnerable setup.
Additionally, employing a VPN will also secure any voice chat server you may be using during gameplay, as hackers can often gain access to your voice communications without proper forms of encryption.
With the presence of nefarious gaming tactics such as 'Swatting', wherein another gamer uncovers your physical address through your IP and calls emergency services to your home, a VPN for gaming can also be a terrific form of prevention against becoming a Swatting victim.
Popular online games to use with a VPN
There are plenty of popular online arena's where a VPN can come in handy, including:
League of Legends – One of the most-played titles in the world, this game is a battle arena competition and is available for macOS and Windows.
Minecraft – With over 144 million copies sold across all platforms, this insanely popular sandbox-style game is the second best-selling video game of all-time after Tetris.
Battlefield – This first-person online shooter series pits players in intense battles against one another with plenty of vehicles to mix up the warfare, and has maintained its popularity through many different iterations, Battlefield 1 being the latest version.
World of Warcraft – The gold standard for massively multiplayer online role-playing games, WoW remains the most-subscribed MMORPG in the world and is known for its intensely addictive nature.
Fortnite – A newer addition to the online gaming scene, Fortnite has become a smash hit with gamers, thanks to its inventive and novel take on the shooter genre.
Using a VPN for Minecraft
As stated earlier, Minecraft remains one of the most-played video games in the world today, thanks to its excellent design and accessible gameplay.
If you happen to be one of the many Minecraft junkies out there, there are plenty of reasons why using a VPN for Minecraft is a smart decision.
Using a VPN for Minecraft will allow you to protect your data and defend against potential DDoS attacks online.
A VPN will also allow you to re-enter your preferred server if you have been unfairly banned.
If your work or school server restricts your access to your preferred sandbox-style game, using an excellent VPN service, such as ExpressVPN, will also allow you to unblock Minecraft.
Additionally, a VPN for Minecraft will provide you with the opportunity to play online with friends who may be in geo-restricted locations, allowing you to reunite and reconnect with far-away friends through a shared form of entertainment.
Using a VPN for League of Legends
League of Legends remains one of the most popular online games in the world, as there are over 100 million active players online each month.
The reach of League of Legends has continued to expand due in large part to its active competitive leagues and being one of the most watched games on Twitch.
As a result of the game's immense popularity, utilizing a VPN for League of Legends is something all players should strongly consider.
If you've been booted from a server and want to enact revenge upon your foes, having a VPN can help you re-enter the fray with ease, as it will hide your true IP address.
A VPN for League of Legends can also protect you against potential DDoS attacks, something which LoL has dealt with in recent years.
What to look for in a VPN for Gaming
When it comes to online gaming it has always been around one thing and one thing only – speed.
Most online games today involve live multiplayer interfaces with super advanced graphics, and VoIP (voice over IP) protocols running simultaneously to enable real-time chats between the players.
This is why speed is such a key factor.
You need a VPN for gaming to get DDoS attack protection and additional security against hackers or swatters.
On top of that though, you want a VPN that is able to deliver all those protections while still being enabling a fast gaming experience.
Some VPNs will also help reduce Ping (latency), by overriding you ISPs throttling mechanisms.
Best VPN's to Use for Gaming Online
#1 ExpressVPN – Best VPN for online gaming
ExpressVPN is an excellent option for online gamers, as it has plenty of attractive benefits, making it our pick for the best VPN for gaming.
We believe ExpressVPN is the best option for online gaming, as it has unlimited bandwidth available in many countries, as well as practically impenetrable 256-bit encryption.
A major reason ExpressVPN is considered the top option is because it is one of the few VPN services that provides an SSTP security protocol, which routes your connection through an SSL VPN server.
Using this VPN service for your gaming needs will not reduce your connection speed, as the unlimited bandwidth ensures that your connection will not drop in the middle of your gameplay.
Highlights:
Average download speed of 85 Mbps.
VPN extension for Chrome for instant security and accessibility
256-bit encryption using SSTP security protocol
Provides security without compromising connection speeds
Get ExpressVPN for your favorite game – Discounted Offer
 #2 NordVPN – Best VPN for online gaming
NordVPN is another excellent choice in terms of VPNs for online gaming, as it has loads of crucial features that make it an attractive option for digital competition.
This extremely reliable VPN service offers gamers the ability to turn on a DoubleVPN feature, which essentially routes your connection through two geo-locations, adding another important layer of security to your gaming experience.
As with ExpressVPN, NordVPN uses AES-256 bit encryption, which provides you with one of the most secure encryption methods available to the public.
NordVPN has 1,374 servers to choose from, spread all over the globe, giving gamers an excellent array of secure and dependable choices at their fingertips.
Highlights:
Average download speed of 46.5 Mbps.
DoubleVPN feature for additional layer of security
A TON of servers worldwide, providing plenty of options to choose from
Ability to connect up to six devices at once
Get NordVPN – 72% off with 30 day money back guarantee
#3 CyberGhost – Best VPN to play online games
CyberGhost has seen its popularity grow in recent years, continuing to improve its services and make a name for itself as a VPN service gamers can rely on.
In terms of identity theft protection, CyberGhost excels at hiding your IP address and significantly reduces the possibility that someone will steal your data or maliciously use your information for harmful purposes.
This is especially helpful in the gaming world, as online "trolls" who seek to misuse your information will not be able to do so since your data and IP address will be shielded.
CyberGhost has 690 servers across the world, allowing you to select a server that is most convenient for you, both for geo-restrictions and connection purposes.
Highlights:
Highest download speed of any VPN (88 Mbps. on average) , an excellent option for gamers
256-bit encryption using SSTP security protocol
Cyberfraud protection, making in-game payments more secure
Get Cyberghost for Online Gaming– Includes a 30-day money back guarantee
Bottom Line
All gamers who take their security seriously should not be gaming online without a trusted VPN.
Hackers and other nefarious online actors continue to pose serious threats to individuals in cyberspace, and the gaming world is especially vulnerable to these potential intrusions.
A VPN for gaming will allow you to access games and servers which have geo-restrictions placed upon them, opening up the playing field significantly.
Equipping yourself with a VPN will make your gaming experience smoother, more secure, and free from digital attacks.