NordVPN Reviews
VPN Reviews 2018

NordVPN has become one of the most popular VPN services in recent years.
Seems that they emphasize security as their main trait, and do have some unique security features, unlike any other VPN.
On this VPN review, I will examine the Pros and Cons of NordVPN and give my final verdict.
Get NordVPN – 72% off with 30-day money back guarantee
The criteria I set for my reviews is as follows:
Usability & Interface – The user interface needs to be simple, easy and user-friendly. A good VPN will also provide useful features that make it function better. What did I think of NordVPN's interface?
Speed – The fact that you are using a VPN doesn't mean you are willing to compromise on speed. Having a fast browsing experience is key, even while connected via a VPN. How did NordVPN rank in terms of speed?
Security Protocols – One of the main uses for a VPN is improved and extended security and privacy measures. How much you cherish your online privacy would determine your choice of VPN's. What is NordVPN security edge?
Servers & Performance – Amount of servers, locations, and Countries to tunnel through, is important not just for security reasons but also for gaining access to blocked websites. What does NordVPN offer in comparison to other VPN's?
Customer Support – When you need help, you want it instantly. The more ways you get to communicate with customer support the better. I tested NordVPN's support in several ways – how did they do?
Pricing – Let's face it, we want a premium product for as little money as possible. I'll examine NordVPN pricing plans and fine-print. What is the value for money? How are their deals?
NordVPN Review
Key Info
Parent Company: Tefincom co S.A. Geographic Location: Panama
Year Established: 2008
Number of Simultaneous Connections: 6
Refund Policy: 30-day money-back guarantee
Available Platforms: Windows, Mac, Linux, iOS, Android
NordVPN Usability & Interface – 9.3/10
My overall impressions with NordVPN usability and interface was quite good. As part of this NordVPN review, I purchased NordVPN and will share my experiences.
The installation process was quite clear and fast.
Very user-friendly and what I liked was that they have a dedicated tutorial depending on the device you are installing it on.
Once installed, you can't go wrong with activating NordVPN.
There's just one button to connect or disconnected and it can't be missed.
A nice feature they offer is to ask you to choose for what purpose you need to connect to a VPN for.
Depending on your choice, they will recommend the server and location that is optimal for your needs.
It gets a bit complicated once you go to the 'servers' tab.
(see slide 2)This is where you will find a list of servers to connect to, a recommendation for which one is optimal for your need and an option to toggle double-vpn & anti-DDoS. 
Both are additional security protocols, unique only to NordVPN, which I will explain later on this review.
However, at this stage, these two options may create some confusion for those who don't know what they are meant to do. There are no clear explanations as well.
Main screen | Activate Your VPN connection. Choose your purpose and see recommended geo-location to connect to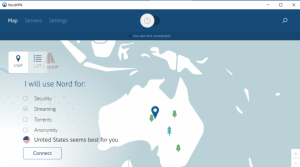 This is where you can choose specific Servers you wish to connect through or toggle the double-VPN or DDoS protection features.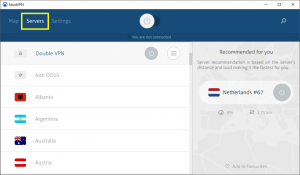 NordVPN Speed – 9.0/10
A fast VPN is probably on everyone's top 3 features list when going VPN shopping.
Personally, I use VPN's for streaming quite a lot and speed is the number one thing that could make or break your streaming experience.
I tested NordVPN across several devices, with simultaneous connections and individually.
The good news was that there wasn't much difference in speed when I was connected with 3 devices at the same time, and when I was connected to each device on a separate occasion.
The bad news was, I wasn't too impressed with the speed, at least when it came to using the VPN for streaming.
The overall browsing speed was good and I even got good download speed with torrent sites.
The main problem occurred when I logged into Netflix and started streaming.
The speed was inconsistent, going from ok to bad, but mostly this made the whole streaming experience annoying. I had similar issues with Hulu and BBC iPlayer.
When it comes to streaming, NordVPN was a disappointment.
On all other VPN related tasks, speed was good. Overall, considering all VPN uses, NordVPN does provide good speed – so it really comes down to what you are looking for with a VPN.
NordVPN Security Protocols – 9.4/10
NordVPN uses AES-256 bit encryption, 'Military Grade' as they refer to it. They also provide the following security protocols:
IKeV2/IPsec
OpenVPN (TCP/UDP)
In addition they provide 2 unique security features:
CyberSec – An extra protection against malware and intrusive ads. This feature will also warn you if you are about to enter a suspicious/dubious website, which may cause harm to your computer.
DoubleVPN – The DoubleVPN feature, does exactly what it says. It routes you through one geo-location and then re-routes you through another. Essentially, you move from your original IP address to an intermediate IP address and on to a final IP address. This makes re-tracing your origin even more difficult than it was had you routed you IP only once. This extra layer of security is a nice feature and NordVPN are the only ones providing it.
In addition, you can find the more standardized privacy features such as Kill Switch, DNS Leak protection, no logs policy, and more.
Privacy & Security Protocols Comparison
| Total Score | 9.4/10 | 9.1/10 | 8.4/10 |
| --- | --- | --- | --- |
| | NordVPN | PrivateVPN | CyberGhost |
| Open VPN (UDP/TCP) | + | + | + |
| PPTP | - | + | + |
| SSTP | - | - | - |
| L2TP/IPSec | + | + | + |
| IKEv2 | + | + | - |
| First party DNS Servers | + | + | + |
| Proprietary Protocols | - | - | - |
| DNS Leak Blocking | + | - | + |
| Killswitch | + | + | + |
| No-Logs Policy | + | + | - |
NordVPN Customer Support – 9.2/10
When it comes to customer support, seems to me that NordVPN would rather let you find answers to your questions yourself, rather then having a real person assist you.
On their website, there's an extremely comprehensive FAQ and help section. I could not find a question for which there was no answer for. They have a nice search bar where you can write your query, and find all relevant answers and explanations.
That said, getting a hold of a real person was a bit challenging. For those of you who prefer live chat, or emails you'd better be patient. I tried reaching out to a live chat rep. It took me three days, coming in at random hours of the day until I got a logged-in agent who replied to my questions. When he finally did, the service was good and professional.
To my emails, I got a reply after about 2.5 days on average. But, I did get proper references which answered my questions.
NordVPN Pricing – 9.5/10
If you intend to be using a VPN for a long time; which I see no reason why you shouldn't, NordVPN have probably the best offer in the market. Their 3 year plan will cost you only $2.75 per month, which is one of the cheapest VPN deals out there.
In addition, they offer 3 more pricing plans, which are also very competitive. Overall, NordVPN want you for the long-term, and will give you a great deal to stick around with them. On top of the pricing plans, they offer a 30-day money back guarantee.
Bottom Line – 9.4/10
On this NordVPN review, I set out to examine the pros and cons of this VPN. Overall, NordVPN are a trending and popular VPN for a good reason. The VPN service they offer is very good, and their unique security features along with highly competitive pricing plans makes NordVPN a great product.
The only major downside for me was slow speed while streaming, but in general the VPN experience I had using NordVPN was very positive. I recommend NordVPN, especially if you are mainly interested in Security and downloads.