How to Bypass Geo Blocking
What is Geo Blocking and how to use a VPN for Geo Blocking?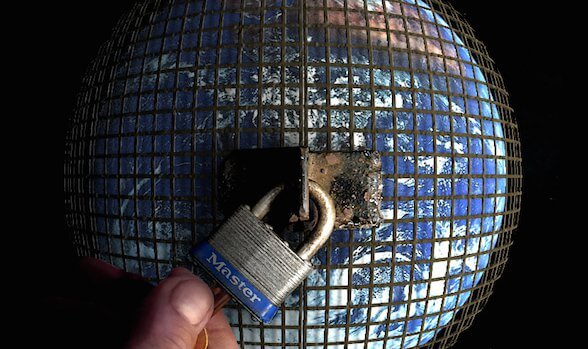 Summary – The internet, unfortunately, is being regulated and monitored consistently by Governments, and Corporations.
In many cases, politics and the aim of growing profits stand in the way of a free internet.
Geo-blocking has been invented in order to filter web content to anyone who is outside a specific Country.
The reasons for doing it are myriad, and I will discuss several with a few hacks and tips to bypass Geo-blocking.
Geo-Blocking 101
Geo-Blocking these days is mainly used by two entities.
Geo-Blocking Countries
Geo-Blocking Streaming Services
The Countries that use Geo-Blocking, are doing so mainly in order to censor and control the content their residents can have access to.
They, with the help of the local ISPs, use both internal and external Geo-Blocking.
This means they block local residents from accessing external content in other Countries and also prevent users from other Countries access to their local websites.
This practice can be seen in Countries like China, Qatar or in the UAE.
When streaming services use Geo-Blocking, they mostly do it due to Copyrights issues.
They cannot legally allow anyone to stream content from one Country in another Country, given that both Countries do not have mutual commercial agreements between them.
This is a huge bureaucratic mess, and a lot of money is at stake.
Just imagine the amount of money in royalties and advertising fees, which is being lost, and the legal risk platforms such as Netflix or Hulu would be under had they allowed users from around the world to stream content freely.
How Geo-Blocking works?
Geo-blockers rely mostly on your IP address to determine the Country you are browsing from.
However, there are some more technologically detection tools that are being used:
IP Detection – Each website you enter on the internet sends a request to your browser where he gets your IP address (even if you use incognito mode).
IPv6 – It is quite easy today to hide your IP address, but in many cases that won't be enough. When you hide your IP, you hide your IPv4 while your IPv6 still points at your real IP address (they are the same, just with different encoding).
Server blacklists – Since many people use Proxies or VPNs to bypass Geo-Blocking, a simple IP detection is not enough. Entire servers are being monitored, and if they are suspected of harvesting VPN traffic they would be blacklisted and blocked.
As Geo-blockers become more advanced and sophisticated, it takes more than simple tools to bypass them.
To truly remove Geo-blocking and unblock sites no matter where you are in the world, only a select number of VPNs would accomplish the task with 100% success and security.
Popular sites that use Geo-Blocking
Part of the reason people are interested in Geo-blocking is to find ways to bypass Geo-blocking websites and online services.
Netflix – Different countries have different catalogs
Hulu – Access from the US only
BBC iPlayer – Access from the UK only
Spotify – Only where the service is available
YouTube – Videos or the entire site may be  blocked in certain Countries
Canal Plus – Only available in France and Luxemborg
Channel 4 – Access from the UK only
Sky– Access from the UK only
ESPN– Access from the US only
How to bypass Geo-Blocking
As stated above, Geo-blocking websites use 3 methods to restrict users from different Countries entering.
These methods are usually used together, rather than separately:
IP Detection
Comparing IPv6 to IPv4
Checking Server Blacklists
In order to bypass Geo-blocks and Geo-restrictions, you would need to have a tool that is able to bypass all three methods.
For this reason, I recommend using a VPN for Geo-blocking as opposed to a Proxy service (which I will discuss later on).
A VPN (Virtual Private Network) works by re-routing your server connection to a different server in a different location.
As a result, your IP address changes to a new address according to the server location you connected to.
So, for example, if I connect to an Australian server, my new IP address would be an Australian IP.
A good VPN would also have DNS and IP leak protection, and a kill-switch.
Those are safeguards to make sure your IP and online identity remains safe and secure, even if the VPN gets disconnected or a downtime of sorts.
In addition, some VPN services also have a disable IPv6 feature, which disables anyone from being able to read your IPv6 address.
This process could also be done manually on every computer, here's how.
Finally, a good VPN would have hundreds if not thousands of different servers to connect to, while also constantly getting new servers for your use.
This makes it nearly impossible to blacklist a VPN server that's in current use.
Proxy services and free VPNs for Geo-blocking
Whether you should use a proxy service or a free VPN, really depends on the type of website's geo-block you need to go around.
Although most sites today use more advanced geo-blocking tools than simply checking and validating your IP address, some still do just that.
In those cases, I would recommend to go for the easy option and use a proxy for Geo-blocking.
I still would not recommend using a free VPN for Geo-blocking, as those tend to logs and sell your browsing information, as this is the way they make money.
However, please use extreme caution when using a proxy.
Proxy services are insecure and can be easily detected and traced back to you.
If you are in a Country where it is illegal to access Geo-blocked content, I strongly urge you not to use a Proxy service.
Best VPN for Geo-Blocking
I chose Cyberghost as the very best VPN for Geo-blocking because it simply delivers on everything you need and more.
Highlights:
2700 servers in 60 Countries
No logs
IP Leak protection + KillSwitch
Server and IP switching
Unblocks Netflix, Hulu, BBC iPlayer and more
ExpressVPN is one of the best overall VPNs in the industry.
It is only at number two, because of its slightly more expansive price tag but many satisfied and loyal users are happy to pay for such a premium VPN.
Highlights
1500 servers in 95 Countries
No logs
IP leak protection
SSTP over OpenVPN
Unblocks Netflix, Hulu, iPlayer and more
NordVPN is a very robust and strong VPN, especially when it comes to the number of servers they offer.
Highlights:
3,950 servers in 61 countries
No logs
IP leak protection
DoubleVPN feature
Unblocks advanced Geo-blocking services
Bottom Line
Whether you come from a restricted Country or just want to access content that is out of reach, almost anybody on the internet today is looking to learn how to bypass Geo-blocking.
Although there are several ways to do it, such as getting a Geo-blocking Proxy or a free VPN for Geo-blocking, I strongly recommend against it mainly for privacy and security reasons.
In my opinion, a VPN for Geo-blocking is the best way to get around Geo-blocks and bypass Geo-restrictions.