How to Watch UK TV Abroad
Watch your favorite UK TV shows in the US (or anywhere else)

Summary – Are you a fan of British television? Do you live in the UK, plan to go abroad but just cannot miss your favorite shows? If you've answered YES to one of these questions, keep reading.
Whether your favorite show airs on BBC One, BBC Two, ITV, Sky or Channel 4 if you are outside the UK you are fresh out of luck!
All of these channels are blocked outside the UK.
Although all of these channels now have an online platform which lets you watch all the shows and more, this platform is Geo-restricted.
By detecting your IP address, these websites detect whether you are outside the UK and block you out.
By using a UK Television specialized VPN (such as Cyberghost)  however, you can easily fake your IP address to a UK one and get swift access to any show you like, no matter where you actually are.
How does a VPN for UK TV work?
The way a VPN can help you unblock UK television channels abroad is by faking your IP address.
The method most online TV channels apply geo-restrictions use is simply by detecting your IP address.
With a whitelist of approved IP addresses, they can easily determine if you should be blocked or not.
Your IP address is essentially your online fingerprint.
Your precise location, browsing history, connection times and preferred websites can all be derived from your IP address.
A VPN is used exactly for preventing this data from being revealed.
Let's go into details….
VPN is short for Virtual Private Network, and it is just that.
When you connect through a VPN your connection goes through a 'VPN tunnel'.
This tunnel is your own private gateway to the internet, and once you go through it you come out differently than you come in.
First, your IP address changes according to the server you chose to connect through.
If you connect through a UK server, your IP address would now show a UK address, and this is exactly what you eventually would need to do in order to unblock UK television in the US.
Second, extra security layers are now added (Congrats!)
Your connection will become encrypted and much more secure and private than ever before.
None of your browsing or identifying data could be traced or monitored when you are using a VPN.
Since watching UK television shows outside the UK is a copyrights violation, a VPN will make sure you are protected and your identity cannot be revealed.
How to watch UK Television in the US?
Perhaps the most common question of all, how do I get access to British television shows when I'm in the USA?
It doesn't really matter if you want to watch a British channel from the US or from anywhere else outside Great Britan, there are strict copyright laws that prevent you from doing so.
Since most British channels broadcast exclusive content, and are bound by royalty payments, commercial agreements with advertisers and non-distribution copyright laws, they are forbidden to allow anyone outside the UK access.
If you are in the US, here's a list of the most popular television channels that are blocked for watching:
BBC One
BBC Two
ITV (1-4)
Sky (such as Sky News, Sky Sports)
CBS
Channel 4
All of these channels do not have commercial agreements with the US and therefore, broadcasting them in the US would be a copyright law violation.
If you try to access CBS from example from outside the UK, here's what it will look like: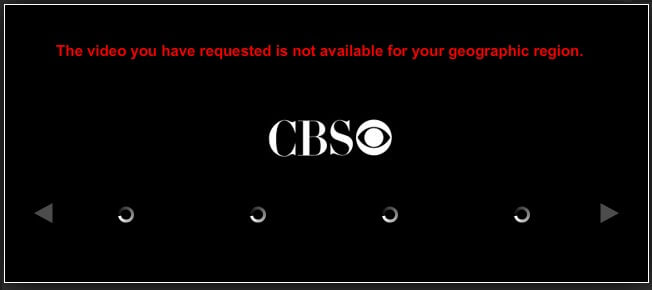 The same goes for any other blocked channel.
The only way you can override these geo-restrictions is by using a VPN that specializes in unblocking UK Television channels.
How to set up a VPN for watching UK TV shows (Step by Step)
Choose one the recommended VPN services – read further to learn what to look for in a VPN for UK TV and what are the VPNs we recommend.
Install and activate the VPN client – once activated, connect to a UK based server. This will give you a UK IP address and the entry to any British channel.
Go to your favorite British channel and start watching!
Popular UK Television channels
What to look for in a UK VPN?
A good VPN for overriding British television geo-restrictions would be able to provide:
Servers in the UK, preferably a selection of several options.
Good download speed for fast streaming
Unlimited bandwidth
UK servers – The reason is obvious.  You must be able to connect through a UK based server in order to get a UK IP address and fake your way into the broadcasting channel platform.
Since different servers have different capacity, ideally you should choose a VPN that offers several options so you can optimize your connection speed by connecting to the least 'crowded' server.
Some VPNs would also offer a dedicated server in the UK, which is best as you are the only one using it there won't be any heavy traffic slowing you down.
Fast Download Speed – Streaming videos is all about download speed. This is measured in Mbps. (Megabytes per second).
Any VPN that can provide an average of at least 70 Mbps. download speed would be great for streaming.
Unlimited Bandwidth – Most VPNs (that aren't free VPNs), would provide unlimited bandwidth.
Since streaming is a relatively 'heavy' task, it eats up a lot of bandwidth.
If you had a bandwidth limitation then most likely you would not be able to watch a 20-minute show without finishing it all up.
Best VPNs to watch UK television abroad
If there is one thing Cyberghost is known for, is that it is one of the fastest VPNs out there.
When it comes to streaming, speed is one of the key factors, and Cyberghost got you covered.
Highlights:
322 Servers in the UK
88 Mbps. measured on average
Unlimited Bandwidth
AES-256 bit encryption over 4 security protocols
30-day money back guarantee
Get Cyberghost for fast streaming of UK TV abroad
#2 ExpressVPN – Best VPN for UK TV
With ExpressVPN you get the whole package.
It is probably the best VPN overall and for sure the best VPN for watching British television abroad.
Highlights:
6 Available servers in the UK (2000 servers at 148 locations in 94 Countries in total)
Download speed of 85 Mbps. in the UK.
Unlimited Bandwidth
AES-256 bit encryption over 4 OpenVPN security protocols  (including SSTP)
30-day money back guarantee
Get ExpressVPN – Most Recommended VPN for watching UK television abroad
#3 NordVPN – Great for Watching British TV in the US
NordVPN has one of the largest server networks in the VPN market.
When it comes to overriding geo-restrictions, there's almost no website, platform or online service in the world that's not accessible with NordVPN.
Highlights:
549 servers in the UK (4835 servers in 62 Countries and growing)
Tested download speed of 56 Mbps. in the UK
Unlimited Bandwidth
AES-256 bit encryption with DoubleVPN security feature
30-day money back guarantee
Get NordVPN to watch British television in the US
Bottom Line
British television has a lot to offer.
If you live outside the UK, or just going abroad for a while, you will not be able to access your favorite British shows.
Most of the online broadcasting channels in the UK are geo-restricted due to copyrights issues and no one outside the UK can access.
By using a VPN which specializes, among other things, in unblocking UK television outside the UK, you can fake your IP address and watch any show you want.
Whether you are in the US or any other Country, with a VPN you can watch any show on any of the British channels.
The most recommended VPN for watching UK TV abroad is Cyberghost.