ExpressVPN Reviews
VPN Reviews 2018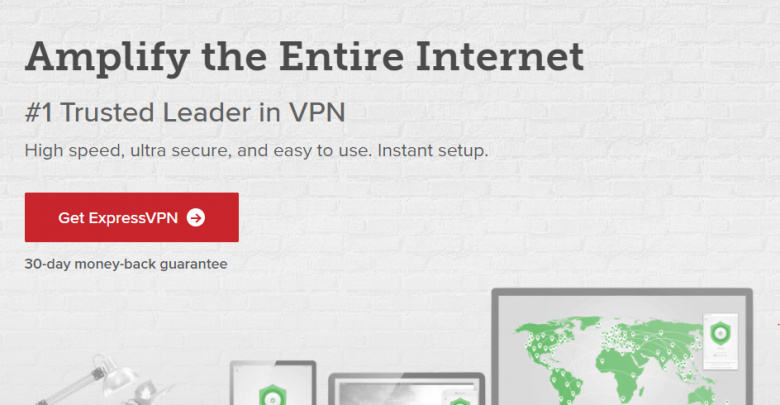 ExpressVPN has become a synonym for VPN in recent years.
Since it was established in 2012, it had rapidly situated itself as the #1 VPN in the world.
I set out to examine this VPN and give you my final thoughts and reviews on my experience with ExpressVPN.
Get ExpressVPN Discounted Offer – 49% off, plus 3 months extra for free. 
The criteria I set for my reviews is as follows:
Usability & Interface – A VPN interface needs to be easy to use, and simple. After all, a VPN in its core is a very technical product.
Many companies in recent years have commercialized VPN's and made them more approachable to the everyday user.
Not all VPN have managed to do that. On my VPN review, I demonstrate how ExpressVPN rank and why.
Speed – Internet is all about speed. If a website doesn't come up within 3 seconds, about 50% of users will give up, and I'm no different.
Now, I can take into consideration that connecting via a VPN can impair my browsing speed;
But expect my browsing to still be fast enough so the impact is minimal. I set out to see how ExpressVPN rank in terms of speed.
Security Protocols – When I review privacy and security protocols, I start by looking at the main features and policies of a VPN service.
I expect to find top-notch encryption, Open VPN protocols, kill-switch, and a coherent no logs policy. My standards are high when it comes to online privacy and security.
Did ExpressVPN live up to my expectations?
Servers & Performance – I like to have options. The more, the better.
Therefore, I'm looking for a VPN that opts for thousands of servers, either shared or dedicated (I like to have that choice as well) and spread across as many Countries as possible.
In the US, UK, and Australia I would be looking for at least 5 different servers to choose from per Country.
Customer Support – If I need some help, I want to be able to reach a customer support agent now.
Preferably via live chat but emails will do as well.
A good customer support will give prompt and professional answers within a reasonable time frame.
Depending on whether I approached them by email or chat. How did ExpressVPN's customer support rank?
Pricing – My pricing review is based on the industry standard, and my subjective grasp of the VPN quality.
A VPN can get good rankings when it's both cheap and delivers a good service.
Since normally, the one doesn't co-exist with the other, I try to find the right balance between pricing and quality and base my VPN review accordingly.
ExpressVPN Review
Key Info
Parent Company: ExpressVPN LTD.
Geographic Location: British Virgin Islands
Year Established: 2012
Number of Simultaneous Connections: 4
Refund Policy: 30-day money-back guarantee
Available Platforms: Windows, Mac, iOS, Android, Linux, Routers, Gaming Consoles
ExpressVPN Usability & Interface – 9.8/10
ExpressVPN have very high standards when it comes to their interface.
I found it to be extremely easy and intuitive to use. Starting with the GUI (Graphic User Interface), I found it to be very noise-less. They've given up with all bells and whistles, in favor of simple instructive buttons.
Same goes for both the Desktop extension and the Mobile App.
In only three steps you can activate your VPN, connect to your desired server and Country and start browsing.
The whole activation/connection process takes less than 30 seconds.
A great and very useful feature is the 'Smart Location' feature. A button that appears on the Activation screen (see Step 1 below), shows the nearest and most efficient server to connect to relative to your location.
This feature is great because it keeps your browsing safe and secure while maintaining your speed at maximum.
This feature in certain circumstances can even get your a better connection than your ISP can.
Step 1 | Activating your VPN Client. Smart Location option is displayed for optimizing your connection speed.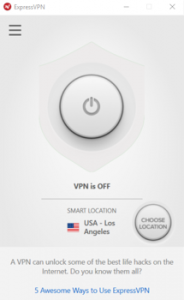 Step 2 | Choose the IP address you want to connect to. You can choose from over 2000 servers in 94 different Countries.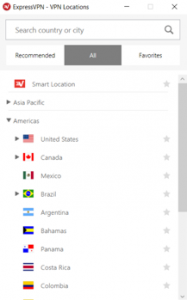 Step 3 | Your are now connected to the VPN.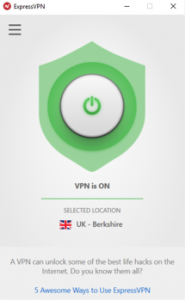 ExpressVPN Speed – 10/10
ExpressVPN was fast. In fact, I went back the application to confirm that I was indeed connected with a VPN.
After testing tens of different VPN's, some good and some excruciatingly slow, ExpressVPN was something else.
I've set up 3 simulations connections.
On my laptop, my phone and on my Smart TV. On my laptop, I started browsing in Torrent sites and opened a few Youtube videos to run in the background.
On my phone, I've opened Facebook and Twitter Apps, and on my TV started watching Narcos on Netflix.
None of my devices has shown any signals of slow loading times, video buffering or glitches. Escobar was making his first drug deal on screen, and everything went smoothly.
ExpressVPN Security Protocols – 9.6/10
ExpressVPN uses an AES-256 bit encryption, based on four protocols which determine the method you can use to set up your secured VPN connection:
OpenVPN with TCP/UDP
SSTP
L2TP/IPSec
PPTP
The fact that ExpressVPN lets you choose which method you want to connect through, says a lot. Your data using ExpressVPN will be impossible to trace, scrape or copy.
ExpressVPN also provides 2 more important privacy protection features:
Kill Switch – this will keep your browsing data safe in case you get disconnected from your secured VPN connection.
Private DNS – No third parties can access your browsing info or current location.
Finally, ExpressVPN has a no-logs policy, in which they declare that they will never keep anything you do online on record. Your browsing data is simply not saved anywhere and cannot be traced back to you.
Privacy & Security Protocols Comparison
| Total Score | 9.6/10 | 9.4/10 | 9.1/10 | 8.4/10 |
| --- | --- | --- | --- | --- |
| | ExpressVPN | NordVPN | PrivateVPN | CyberGhost |
| Open VPN (UDP/TCP) | + | + | + | + |
| PPTP | + | - | + | + |
| SSTP | + | - | - | - |
| L2TP/IPSec | + | + | + | + |
| IKEv2 | - | + | + | - |
| First party DNS Servers | + | + | + | + |
| Proprietary Protocols | + | - | - | - |
| DNS Leak Blocking | + | + | - | + |
| Killswitch | + | + | + | + |
| No-Logs Policy | + | + | + | - |
ExpressVPN Customer Support – 10/10
ExpressVPN's customer support was outstanding! I tested them on email, and chat on various occasions.
To my emails, it took them about 8-10 hours to reply, and it really felt like a good service and not just generic email templates sent to cover frequent questions. Their emails were personal, informative and very professional.
The online chat representative answered within moments after my inquiry. Again, service was very good and efficient.
ExpressVPN Pricing – 9.3/10
There's no doubt that ExpressVPN offers a quality product, and they're priced accordingly, slightly above average. VPN's, in general, is not an expansive product, but ExpressVPN does seem to be on the higher-end.
They offer 3 pricing plans to choose from, and a 30-day money back guaranteed – no questions asked.
In addition, they're currently having a 49% off special promotion, which is a real bargain.
Bottom Line – 9.7/10
ExpressVPN is one of the best VPN services I've got to experience first hand. From the user interface to performance, privacy features and customer support everything was excellent.
I really recommend ExpressVPN to those who are looking for a great VPN for the long term and want to use the best one in the industry.
Get ExpressVPN Discounted Offer – 49% off, plus 3 months extra for free.